Philam 7S Football: Ghana F.C. Makes It Nine Straight, Super Eagles Get Back On Winning Track
Match Day 9 proved to be no different for Ghana F.C. as they remain unscathed in the standings of the on-going Season 3 Philam Life 7s Football League at the McKinley Hill Stadium.

After a relatively slow start in the first half, Ghana F.C. leaned on to their experience as they were able to cruise past Ceres F.C., 5-2.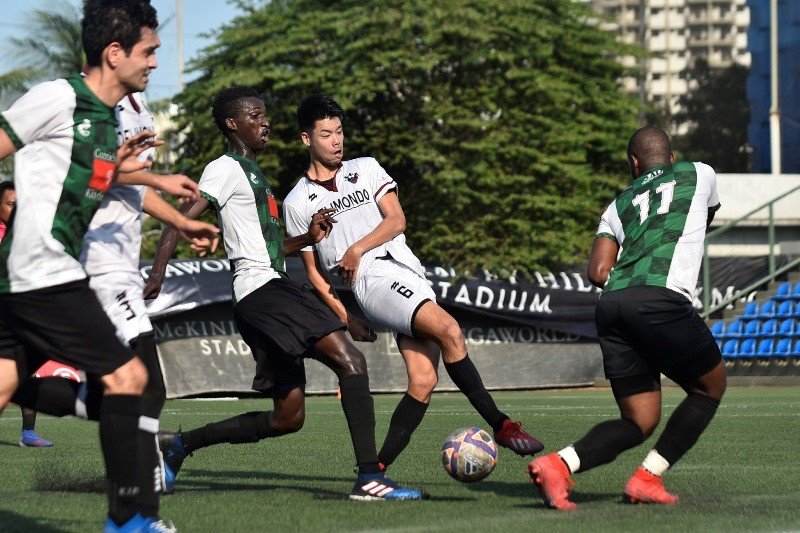 While admitting that they had a tough time against their opponents, forwards Hassan El Muhammadi and Ryo Fujii continuously reminded their teammates to avoid being complacent as they gun for a title this season. And one way of doing so is by keeping the same intensity all throughout the game.
"It was a tough game especially with the heat. We're the first one to play this week and as always, the first game is always tough. They [Ceres] were a young group and they run a lot, we started off a bit slow here, hence we need to adjust and get comfortable a little bit more," said Fujii.
"I think we've found out that if we don't push really well, they are going to surprise us so in the second half, we tried to outdo ourselves so that we could come out strong and started firing in all angles," added El Muhammadi.
In what was a tight matchup, the Delimondo-Laro F.C. eked out a 4-3 victory against the streaking Superbad. Down 3-1, DLFC converted on three straight goals. Midfielder Joaco Canas tied it at three goals each before Tako Odawara punched the winning goal later on to complete a brace for the day.
Canas mentioned that it was a total team effort and he heaped a lot of praise to their stellar defense, particularly in the second half.
"We were told to press them higher, make it a little bit more intense and for us to be more focused. But they just kept fighting, they thought they had the win, but we kept fighting until the end and sank one more goal in to win the game. We'll just take one match at a time, see who's next and try to enjoy and enjoy our Sunday here with the group," explained Canas.
Super Eagles was able to make up for their loss last week by annihilating Tondo F.C., 4-0. The latter made it tough in the opening minutes, holding the defending champions scoreless for most of the first half before the Super Eagles broke the resistance.
Head coach Danny Kross said that the game was harder than the final tally suggested but the team was able to respond well this time around as they try to start a winning streak anew.
"From the defeat of last week, it felt everything was wrong, so we went back to the drawing board. Tondo came out here believing that they can defeat us, and we wanted to prove otherwise. The first goal that we scored was very important because that set the pace for us, we knew that Tondo can do counter attack at any time so we just kept on pushing and used the tendency to score many goals because we can't afford to lose anymore," said Kross.
The Bohemian Sporting Club came out with a strong win against the hapless Stallion-Laguna, 5-1. Through precise ball movement and crisp passing, the club was able to take advantage on their attacks, which was something coach Mikee Carrion emphasized to his wards.
"I think, as a Bohemian, that's our game, really – to keep the possession, keep the ball, try to command and take control of the game. It was very tight in the beginning, but in the second half, they (Stallions Laguna) got tired and we started moving the ball properly, better, faster to open up their defense. I think that was how we got the extra five goals in the second half," said Carrion.
On the other hand, the H&J All-Stars were able to breeze past Matu Deportivo, 2-1. Forward Ivan Matic's goal proved to be the pivotal point of the match as they went up 2-0 from there. He bared that their strong performance was a product of the team's control in the possessions game from the get-go.
"We were controlling the match from the beginning until the end. Our victory was never in question as we listened to our coach's instructions and I felt that we deserved tonight's win. We are looking forward to playing even more games," said Matic.
Rounding up the men's division was Real Amigos posting a clean sheet over the Futbol Funatics, 2-0. Fresh from their rousing win against Super Eagles last week, the Real
Amigos were able to add on to their momentum with tonight's victory.
Coach Lerche Njang remains optimistic as ever as they are slowly creeping up in the standings, but he said that they won't get overconfident given with what happened these past few games.
"It's really a big confidence boost the team. The team's spirit is very high. After winning against Super Eagles, now we won this one. Despite all of these happening, we're still not trying to get ahead of ourselves and we'll take the games one game at a time," said Njang.
In the inaugural 7s Women's Football League, The Bohemian S.C. and Nomads are now tied at the top of the standings after continuing to add victories to their overall records; Stallion-Hiraya F.C. and Outkast F.C. meanwhile also ended the night on a positive note with wins.
Starting the match with a 2-0 lead, the Outkast F.C. never looked back as they beat Payatas F.C., 3-1.
Team manager Keuts Smith admitted some lapses on their end, but coming out with the win, they plan on using this as momentum and as a learning point as the season progresses.
"We actually started out tight, it was difficult for us to score at first, However, once we scored the first one, it gave us some confidence and I am very happy with the results. We had some miscues here and there, but it will definitely teach us to focus up until the very end," said Smith.
Meanwhile, the Bohemian S.C. showed out its brilliance by drubbing The Younghusbands Football Academy, 6-0. Maximizing their full lineup enabled B.S.C. to keep fresh legs in key stretches of the game, which allowed them to turn up the pressure against their opponents.
Coach Ava Africa bared that this strategy has paid dividends and that they will use it more in the upcoming games.
"I think we did a different strategy today from the past three games that we had. We tried to keep them in for a bit of time, and we also substituted players a lot. Ultimately, with this kind of game it was very helpful that we used more players in the lineup for everyone to stay fresh," explained Africa.
In a game that went the distance, it was Nomads who came out on top after besting Young Pinay via penalty shootout, 2-1. Coach Shane Cosgrove expressed his relief after the game since it was a seesaw affair. However, seeing his girls getting the win makes it all worthwhile for him and he credited them for pouring their hearts out.
"Obviously, we had to go to the extra time to try and get the golden goal then eventually at the penalty. We do have a very, very good goalkeeper, we always felt that we might be able to get something out of that. It was tough but satisfying. Frustrating at times but satisfying in the end," admitted Cosgrove.
Lastly, Stallion-Hiraya F.C. jumped back into the win column after posting a clean sheet against Sugod Malaya, 1-0.
With the ballclub only getting its second win in the tournament, striker Erica Casas stressed the importance of having a sense of urgency, especially in their upcoming games as they move forward.
"We came from two losses, so this game was a must-win for us. We want to qualify in the top four, and here in this game, the plan was to score early and overall, I think we played really well. Our mentality is that every game will always be a must-win for us from here on," said Casas.
In the 7s Youth League, Bohemian, Nomads, and Sugod Malaya triumphed in their respective age brackets.
In the U9 division, B.S.C. posted clean sheets against Aspire (2-0) and Bannister (3-0), even as their U13 counterparts won against Nemesis in dominating fashion (6-0).
Meanwhile, Nomads won against Bannister (2-1), and Aspire (1-0) in the U9 division.
On the other hand, Sugod Malaya tallied two victories over Bannister (2-0), and Xavier (1-0) in the U13 division, while Xavier and Caribbean both scored splits in the day.
Here are the complete results for Match Day 9
7s Youth League
U9
Marista 5, Aspire 1
Bohemian 3, Bannister 0
Mondo 2, Socceroo 0
Nomads 2, Bannister 1
G8 2, Socceroo 1
Nomads 1, Aspire 0
G8 1, Marista 1
Bohemian 2, Aspire 0
U13
Bohemian 1, Caribbean 0
Xavier 4, Nemesis 0
Sugod Malaya 2, Bannister 0
Nomads 1, Socceroo 1
Sugod Malaya 1, Xavier 0
Socceroo 1, Bannister 0
Bohemian 6, Nemesis 0
Caribbean 1, Loyola 0
7s Women's Football League
Outkast F.C. 3, Payatas F.C. 1
Bohemian S.C. 6, The Younghusband Football Academy 0
Nomads 2, Young Pinay 1 (1-1 regulation; 1-0 penalties)
Stallion-Hiraya F.C. 1, Sugod Malaya 0
Philam Life 7s Football League Men
Ghana F.C. 5, Ceres F.C. 2
Delimondo-Laro F.C. 4, Superbad 3
Super Eagles 4, Tondo F.C. 0
Bohemian S.C. 5, Stallions Laguna 1
H&J All-Stars 2, Matu Deportivo 1
Real Amigos 2, Futbol Funatics 0