F2 Logistics zero in on Champions League title
1,194 total views, 2 views today
LIPA City — F2 Logistics moved on the cusp of becoming the first-ever Philippine National Volleyball Federation Champions League women's titlist following a 25-18, 25-18, 25-19 romp of Tuguegarao Perlas Spikers on Tuesday (Nov. 23) at the Aquamarine Recreational Center.
The Cargo Movers weathered a searing Perlas Spikers fightback in the second set and pulled away in the third to improve to a 4-0 win-loss card.

Kianna Dy took the scoring mantle with 12 points, while setter Iris Tolenada had a solid all-around game of 10 points, including three aces and three blocks, and tossed in 20 excellent sets for F2 Logistics.
Aby Maraño had four blocks for a 10-point outing while Majoy Baron also scored in twin digits for the Cargo Movers with 10.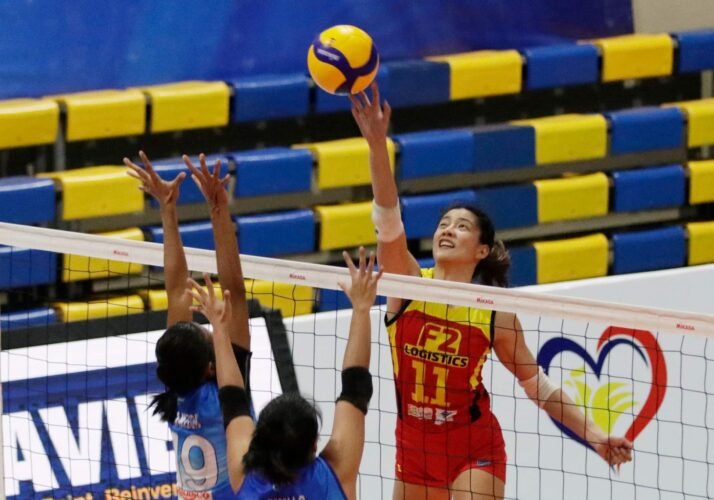 Only Chery Tiggo stands in F2 Logistics' way of winning it all. The Cargo Movers seek to complete s clean 5-0 campaign against the reigning Premiere Volleyball League Open Conference champions in the final day of competitions at 4:00 p.m. on Thursday (Nov. 25).
The team with the best record after the six-day tournament will be the country's representative to the Asian Women's Club Volleyball Championship in May next year.
Acquired by the Cargo Movers last month after her stint in the continental club championship in Nakhon Ratchasima, Thailand, coach Ramil de Jesus knew that Tolenada has something up her sleeves.
"Almost," De Jesus said when asked if Tolenada has fully embraced the Cargo Movers' system that keyed their success before going into a long pandemic hiatus.
Kalei Mau was not fielded but Dy shone brightest for F2 Logistics. The national team standout continued to display her improved floor defense to go with her already solid offense.
"I think that was one thing that I really worked on. I told myself that I have to improve my floor defense and that's what I need to continue working on," Dy said.
The Cargo Movers, who have yet to drop a set, are wary what the Crossovers could offer even without their heart and soul Jaja Santiago.
"Chery Tiggo is a tough team. Their morale is still high after winning the PVL. Good thing Jaja is not around," De Jesus said. "We still have the same preparation. Hopefully, everyone will be healthy."
The Perlas Spikers dropped to fourth place with a 2-2 card. They must beat PetroGazz convincingly at 1:30 p m. on Thursday to achieve a podium finish in the tournament.
With the Perlas Spikers loss, the Crossovers and the Angels are now tied at second and third places with 2-1 records.
Nicole Tiamzon had nine kills, while Norielle Ipac had two blocks to finish with nine points for the Perlas Spikers.
In an earlier match, California Precision Sports (CPS) beat Baguio City, 25-14, 23-25, 25-11, 25-12, to bag its first victory.
The Lady Highlanders also won a set in the second, but the Antipolo-based CPS regrouped with a dominant performance in the third and fourth to prevail.
"We could have done better," said skipper Kizzie Madriaga after her teammates allowed Baguio City to steal a set before playing their usual game and snatch their first win in four outings.
The Lady Highlanders fell to 0-4. (PNVF)