PH lady spikers settle for 6th place at Asian club tilt
1,593 total views, 1 views today
PH Choco Mucho fell to Kazakhstan's Zhetysu, 25-14, 25-11, 25-23, to finish sixth at the 21st Asian Women's Club Volleyball Championship on Thursday (Oct. 7) at the Terminal 21 competition hall in Nakhon Ratchasima.

Already, the sixth-place performance was an improvement on the eight-place finish a Philippine team achieved in the same championship the Philippines hosted in Biñan City in 2017.
But more importantly, the tournament served its purpose for the two Philippine squads—the other seventh-placed Rebisco—that went deep into training only two months ago.
"Well done for the national team program that's still in its infant stage," Philippine National Volleyball Federation president Ramon "Tats" Suzara said. "In time, these ladies will blossom into one solid team that could stand heads and shoulders with the best in Asia."
Choco Mucho coach Arthur "Odjie" Mamon agreed that errors still hound the team but have improved each day in the competition.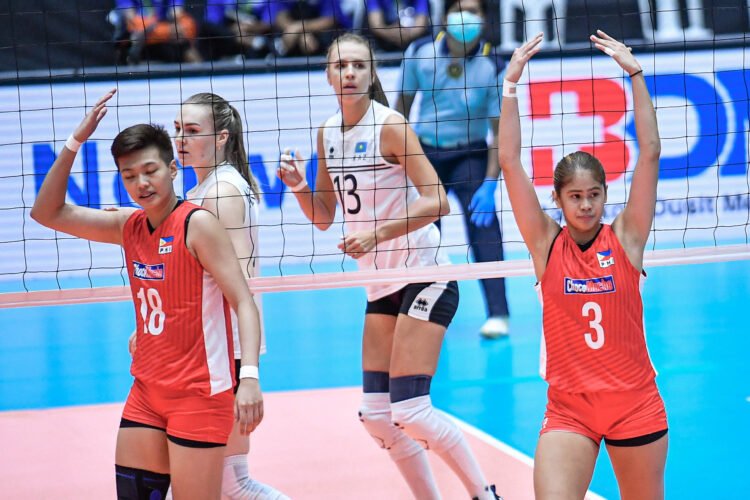 "Although we have been really erratic and started on the wrong foot, we can see the improvement each day we play," Mamon said.
Choco Mucho lost in straight sets to the Central Asian team for the second time in the tournament, but not without a fight.
The Kazakhs raced to 22-15 in the third set but the hard-fighting Filipinas clawed back to threaten at 23-23 capped Ria Meneses's quick hit.
Zhetysu, however, survived the pressure of being the much more experienced squad and clinched the next two points on Valeriya Chumak's go-ahead kill and Kalei Mau's error on her attack.
Choco Mucho exited the continental club tournament with one win in four matches—it beat Rebisco, 22-25, 25-17, 25-19, 25-17, in an all-Philippine qualification duel on Wednesday.
Outside hitter Mau took the scoring mantle for Choco Mucho with 12 points on eight attacks and four blocks, while middle hitters Meneses and Dell Palomata, who was solid at the net, combined for 11 points.
Mau was satisfied with the team's overall performance.
"I think the future of the Philippine volleyball program is going to be very bright as long as we continue to bring up each other and build on the program," Mau said. "The younger girls showed really, really great performances and if we just keep on building up on a core, I think we can get better."
"There's no other way but up from here," added Mau, whose team yielded to Zhetysu, 22-25, 10-25, 15-25, the first time they met in the championship.
The two teams' participation in the tournament was supported by the Philippine Sports Commission, Rebisco, Taguig Rep. Alan Peter Cayetano, and Asics.