WATCH: Incredible buzzer-beating halfcourt shot allows UP Lady Maroons to win 1st game in 3 years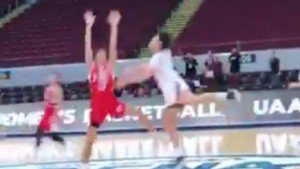 The University of the Philippines women's basketball team won its 1st game in the UAAP Season 82 women's basketball tournament behind an incredible halfcourt heave.
Following a miss from the UE Lady Warriors, veteran forward Pesky Pesquera grabbed the rebound, looked at the clock, and wisely made a long attempt from behind the halfcourt line.
UP Lady Maroons defeated UE Lady Warriors 55-52 via a half court buzzer beater of Pesky Pesquera.

☝️st win of the season for the Lady Maroons and Coach Paul Ramos.#UAAPSeason82 pic.twitter.com/IFcyVtEIIb

— Pong Ducanes (@ompongski) October 12, 2019
The game was tied at 52-all prior to the remarkable shot, so either way, a miss would only mean overtime for both sides.
But if there is one thing we learned from Pesquera's shot, it's that the game isn't over until the final buzzer.
It was the Lady Maroons' 1st win in 3 seasons too.