NBA: Wade gets to start at shooting guard for Cavs
485 total views, 1 views today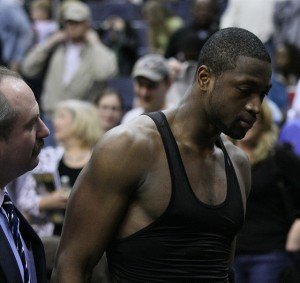 Dwyane Wade signed as a free agent with the Cavaliers without being promised a starting job.
He's got one anyway.

After toying with other lineup combinations, Cavs coach Tyronn Lue said Monday that Wade will start at shooting guard alongside Derrick Rose in Cleveland's remodeled backcourt. Wade recently signed a one-year contract with the Cavs, reuniting with LeBron James in Cleveland after the two superstars spent four seasons together in Miami.
Now they're together again in the starting lineup.
Lue will unveil Cleveland's new lineup — Wade, Rose, James, Jae Crowder and Kevin Love — on Tuesday night in an exhibition against Chicago, Wade's team last season. The 12-time All-Star will replace J.R. Smith, who will come off the bench after starting 112 games over the past two seasons.
Lue said Smith didn't have any problem moving into a new role on Cleveland's second unit, which will also include Tristan Thompson, Kyle Korver and Jeff Green and is liable to undergo numerous modifications throughout the season.
It's a big change for Smith, who has been a major contributor the past three seasons for the defending Eastern Conference champions.
"He was fine," Lue said of Smith, who missed 36 games last season after undergoing surgery on a broken thumb. "It's tough, you've been in position where you went to three straight Finals and you've been the starting 2-guard. But like I said, it's about sacrifice if you want to win. J.R. was great about it. Just knows he has to have a different role right now so we'll see how it works."
Lue opened training camp with Wade as the point guard for Cleveland's second unit. But the coach said he decided in the past few days to move the 35-year-old in the starting lineup along with James, who has been slowed by a sprained ankle.
Wade and James have developed a unique chemistry on the floor, where they are able to move separately and in unison. Lue wanted to take advantage of that bond and will team them up again.
"Just something we're going to do to start the season and see how it works," he said.
Lue's biggest challenge will be keeping everyone happy with their playing time. That's not necessarily a bad thing with all the talent at his disposal.
As for his starting five, Lue loves the group's versatility.
"They all can push it out on the break if they rebound the basketball," he said. "Guys who can make plays, good cutters, good slashers. We also can space the floor. We have a lot of weapons. We just gotta put them all together so they all play well together." (The Associated Press)