Arnold Schwarzenegger Named Chief Action Officer on Netflix
723 total views, 9 views today
Nobody knows action like Arnold Schwarzenegger. That's why Netflix is excited to introduce him as the new Chief Action Officer on Netflix!
So whether you want to catch Schwarzenegger's first-ever television role in FUBAR, Chris Hemsworth's highly anticipated return in Extraction 2, a new season of The Witcher with Henry Cavill or Gal Gadot as an intrepid heroine in Heart of Stone, Arnold is working around the clock to bring you the most explosive series and films on earth!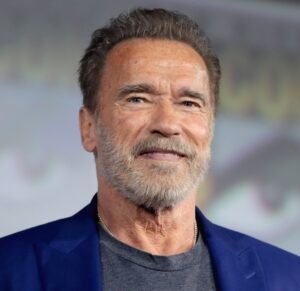 Get ready for a hard-hitting roller coaster ride as Netflix cranks its action slate into the next gear.
Click here to see our new and upcoming must-watch action series and films. And click here to to watch The Governator's State of the Action address. In his words: "Nobody hits like Netflix."
Kick Off a Year of Action with These Upcoming Movies and Shows
From Extraction 2 to FUBAR, nobody hits like Netflix.
Lights… camera… action.
Get ready for a year of thrills as Netflix cranks its action slate into the next gear. Newly appointed Chief Action Officer Arnold Schwarzenegger has arrived on the scene in his personal tank, and he's bringing a glimpse at a few epic adventures. From Schwarzenegger's first-ever television role in FUBAR to another chapter of Tyler Rake's journey in Extraction 2, from a new season of The Witcher to the introduction of a new intrepid heroine in Heart of Stone, everything is in place for a hard-hitting roller-coaster ride. Read on for your mission briefing, and see above for the Governator's State of the Action address. In his own words: "Nobody hits like Netflix."
Streaming now
FILM
Jung_E
Logline: In 2194, a civil war among those who survived the Earth's catastrophe breaks out. A war heroine, Major Jung_E, goes into a coma after a serious injury, and her family is forced to donate her brain data to Next Generation Lab. Next Generation Lab uses Jung_E's data to make an AI robot, and using that robot, the lab continues to conduct war simulation. During the simulation, Seo-hyun, daughter of Jung_E, participating as the robot research team leader, learns her mother's secret through repeated experiments.
Cast: Kim Hyun-joo
Director: Yeon Sang-ho
FILM
Kill Boksoon
Logline: Boksoon leads a double life – she is both a mother of a teenage daughter and a legendary professional killer at the top-tier killing agency MK. Caught between the mission of killing someone and the mission of raising someone, Boksoon refuses to complete an assigned mission and is thrown into an inevitable fight.
Cast: Jeon Do-yeon, Sul Kyung-gu, Kim Si-a, Esom, Koo Kyo-hwan
Director: Byun Sung-hyun
FILM
Luther: The Fallen Sun
Logline: In Luther: The Fallen Sun – an epic continuation of the award-winning television saga reimagined for film – a serial killer is terrorizing London while brilliant but disgraced detective John Luther (Idris Elba) sits behind bars. Haunted by his failure to capture the cyber psychopath who now taunts him, Luther decides to break out of prison to finish the job by any means necessary.
Cast: Idris Elba, Cynthia Erivo, Andy Serkis, Dermot Crowley
Director: Jamie Payne
FILM
Murder Mystery 2
Logline: Now full-time detectives struggling to get their private eye agency off the ground, Nick and Audrey Spitz find themselves at the center of an international abduction when their friend the Maharajah is kidnapped at his own lavish wedding.
Cast: Adam Sandler, Jennifer Aniston, Adeel Akhtar, John Kani, Mark Strong, Mélanie Laurent, Jodie Turner-Smith, Kuhoo Verma, Enrique Arce, Tony Goldwyn, Annie Mumolo, Zurin Villanueva
Director: Jeremy Garelick
FILM
The Mother
Logline: An assassin comes out of hiding to protect the daughter that she gave up years before, while on the run from dangerous men.
Cast: Jennifer Lopez, Joseph Fiennes, Omari Hardwick, Gael García Bernal, Paul Raci and Lucy Paez
Director: Niki Caro
SERIES
The Night Agent
Logline: Based on the novel by Matthew Quirk, The Night Agent is a sophisticated, character-based action-thriller centering on a low-level FBI agent who works in the basement of the White House, manning a phone that never rings – until the night that it does, propelling him into a fast-moving and dangerous conspiracy that ultimately leads all the way to the Oval Office.
Cast: Gabriel Basso, Luciane Buchanan, Hong Chau, DB Woodside, Fola Evans-Akingbola, Eve Harlow, Phoenix Raei, Enrique Murciano, Sarah Desjardins
Showrunner: Shawn Ryan
SERIES
Black Night
Logline: In a dystopian future devastated by air pollution, the survival of humanity depends on the Black Knights – and they're far from your average deliverymen. The Black Knights are delivery men who deliver everything, oxygen included, to those with a barcode to allow them to survive. The only hope for the refugees are the Black Knights.
Cast: Kim Woo-bin, Song Seung-heon, Kang You-seok, Esom
Director: Cho Ui-seok
SERIES
S.W.A.T.
Logline: Inspired by the television series and the feature film, S.W.A.T. stars Shemar Moore as a former Marine and locally born and raised S.W.A.T. sergeant, tasked to run a specialized tactical unit that is the last stop in law enforcement in Los Angeles. Torn between loyalty to where he was raised and allegiance to his brothers in blue, Daniel "Hondo" Harrelson strives to bridge the divide between his two worlds.
Cast: Shemar Moore, Stephanie Sigman, Alex Russell, Jay Harrington, Lina Esco, Kenneth Johnson, Peter Onorati
Showrunner: Shawn Ryan
SERIES
FUBAR
Logline: When a father and daughter learn that they've each secretly been working as CIA operatives for years, they realize their entire relationship has been a lie and they truly don't know each other at all. Suddenly they're forced to team up as partners, making for a series that tackles universal family dynamics set against a global backdrop of spies, fantastic action and humor.
Cast: Arnold Schwarzenegger, Monica Barbaro, Jay Baruchel, Aparna Brielle, Andy Buckley, Milan Carter, Fortune Feimster, Barbara Eve Harris, Gabriel Luna, Fabiana Udenio, Travis Wan Winkle, Devon Bostick, David Chinchilla, Rachel Lynch, Stephanie Sy, Scott Thompson
Showrunner: Nick Santora
Release Date: May 25
FILM
Blood & Gold
Logline: Set in spring 1945, the final days of the Second World War, Blood & Gold tells the story of German deserter Heinrich (Robert Maaser) and young and courageous farmer Elsa (Marie Hacke). On his way home from the front to find his daughter, Heinrich stumbles into the clutches of a marauding SS troop. Their leader (Alexander Scheer) leaves him hanging in a tree. But he's saved at the last minute by Elsa, who hides him on her farm. Meanwhile, the SS is searching for treasure allegedly hidden in a nearby village, meeting bitter resistance from locals. Soon, Heinrich and Elsa are unwillingly dragged into this action-packed hunt for gold, culminating in a bloody showdown at the village church.
Cast: Robert Masser, Alexander Scheer, Marie Hacke, Roy McCrerey, Florian Schmidtke, Simon Rupp, Petra Zieser, Stephan Grossmann, Juri Senft, Jared Lorenzo, Tomas Karel
Director: Peter Thorwarth
Release Date: May 26
DOCUMENTARY SERIES
Arnold
Logline: This three-part documentary series chronicles Arnold Schwarzenegger's journey from the countryside of Austria to the highest echelons of the American dream. In a series of candid interviews Schwarzenegger, his friends, foes, co-stars and observers cover everything from his days pumping iron to his triumphs in Hollywood, his time governing the state of California and both the joys and turbulence of his family life in a tale that matches his larger-than-life persona.
Director: Lesley Chilcott
Release Date: June 7
SERIES
Bloodhounds
Logline: Get ready for Bloodhounds, an exhilarating series that thrusts a compassionate rookie boxer into the perilous world of loan sharks. Alongside him, a fellow newcomer to the boxing scene joins the fight against injustice. Together, these youngsters confront ruthless loan sharks who lurk around every corner, waiting to strike.
Cast: Woo Do-hwan, Lee Sang-yi, Huh Joon-ho, Park Sung-woong
Director: Jason Kim
Release Date: June 9
FILM
Extraction 2
Logline: After barely surviving the events of the first movie, Tyler Rake (Chris Hemsworth) is back as an Australian black ops mercenary who's tasked with another deadly mission: rescuing the battered family of a ruthless Georgian gangster from the prison where they are being held.
Cast: Chris Hemsworth, Golshifteh Farahani, Adam Bessa, Daniel Bernhardt and Tinatin Dalakishvili
Director: Sam Hargrave
Release Date: June 16
SERIES
The Witcher Season 3
Logline: As monarchs, mages and beasts of the Continent compete to capture her, Geralt takes Ciri into hiding, determined to protect his newly reunited family against those who threaten to destroy it. Entrusted with Ciri's magical training, Yennefer leads them to the protected fortress of Aretuza, where she hopes to learn more about the girl's untapped powers; instead, they discover they've landed in a battlefield of political corruption, dark magic and treachery. They must fight back, put everything on the line – or risk losing each other forever.
Cast: Henry Cavill, Anya Chalotra, Freya Allan, Joey Batey
Showrunner: Lauren Schmidt Hissrich
Release Date: June 29 (Vol. 1) and July 27 (Vol. 2)
FILM
The Out-Laws
Logline: Owen Browning (Adam Devine) is a straitlaced bank manager about to marry the love of his life, Parker. When his bank is held up by the Ghost Bandits during his wedding week, he starts to suspect that his future in-laws (who just arrived in town), are in fact the infamous Out-Laws.
Cast: Adam DeVine, Pierce Brosnan, Ellen Barkin, Nina Dobrev, Michael Rooker, Poorna Jagannathan, Julie Hagerty, Richard Kind, Lil Rel Howery and Blake Anderson
Director: Tyler Spindel
Release Date: July 7
FILM
Bird Box Barcelona
Logline: From the producers of the global phenomenon Bird Box comes Bird Box Barcelona, an expansion of the film that riveted audiences in 2018. After a mysterious force decimates the world's population, Sebastian must navigate his own survival journey through the desolate streets of Barcelona. As he forms uneasy alliances with other survivors and they try to escape the city, an unexpected and even more sinister threat grows.
Cast: Mario Casas, Georgina Campbell, Diego Calva, Alejandra Howard, Naila Schuberth, Patrick Criado, Lola Dueñas, Gonzalo de Castro, Michelle Jenner and Leonardo Sbaraglia
Director: Álex Pastor, David Pastor
Release Date: July 14
FILM
They Cloned Tyrone
Logline: A series of eerie events thrusts an unlikely trio (John Boyega, Jamie Foxx and Teyonah Parris) onto the trail of a nefarious government conspiracy in this pulpy mystery caper.
Cast: John Boyega, Teyonah Parris, David Alan Grier, J. Alphonse Nicholson, Tamberla Perry, Eric Robinson Jr. with Kiefer Sutherland and Jamie Foxx
Director: Juel Taylor
Release Date: July 21
FILM
Heart of Stone
Logline: Rachel Stone (Gal Gadot) is an intelligence operative, the only woman who stands between her powerful global peacekeeping organization and the loss of its most valuable – and dangerous – asset.
Cast: Gal Gadot, Jamie Dornan, Alia Bhatt, Sophie Okonedo, Matthias Schweighöfer, Jing Lusi, Paul Ready
Director: Tom Harper
Release Date: Aug. 11
SERIES
Who Is Erin Carter?
Logline: Meet Erin – Mum, Wife, Teacher living the expat dream in Spain. Or so we think until a robbery in a supermarket reveals her to be a badass fighter! Erin is clearly not who she says she is, but how far will she go to keep her true identity at bay?
Cast: Evin Ahmad, Sean Teale, Indica Watson, Pep Ambros, Douglas Henshall
Series Producer: Nuala O'Leary
Release Date: Aug. 24
SERIES
Lupin Part 3
Logline: Now in hiding, Assane must learn to live far from his wife and son. With the suffering they endure because of him, Assane can't stand it any longer and decides to return to Paris to make them a crazy proposal: leave France and start a new life elsewhere. But the ghosts of the past are never far away, and an unexpected return will turn his plans upside down.
Cast: Omar Sy, Ludivine Sagnier, Antoine Gouy, Soufiane Guerrab, Shirine Boutella
Creators: George Kay, in collaboration with François Uzan
Release Date: Oct. 5
FILM
Rebel Moon
Logline: When a peaceful colony on the edge of the galaxy finds itself threatened by the armies of the tyrannical Regent Balisarius, they dispatch Kora, a young woman with a mysterious past, to seek out warriors from neighboring planets to help them take a stand.
Cast: Sofia Boutella, Djimon Hounsou, Ed Skrein, Michiel Huisman, Bae Doona, Ray Fisher, Charlie Hunnam, Anthony Hopkins, Cary Elwes, Corey Stoll, Jena Malone, Fra Fee, Cleopatra Coleman, Alfonso Herrera, Stuart Martin, Staz Nair, Sky Yang, Rhian Rees, E. Duffy and Charlotte Maggi
Director: Zack Snyder
Release Date: Dec. 22
FILM
Lift
Logline: An international heist crew is recruited to prevent a terrorist attack and must pull off a heist on a plane mid-flight.
Cast: Kevin Hart, Gugu Mbatha-Raw, Vincent D'Onofrio, Úrsula Corberó, Billy Magnussen, Jacob Batalon, Jean Reno and Sam Worthington
Director: F. Gary Gray
Release Date: Jan. 12, 2024
FILM
Ballerina
Logline: This film depicts the beautiful and ruthless revenge by Okju, a former bodyguard, for Minhee, her best friend.
Cast: Jun Jong-seo, Kim Ji-hun, Park Yurim
Director: Lee Chung-hyun
Release Date: Fall 2023
FILM
Believer 2
Logline: A crime action film on the nerve-wracking war between Won-ho, who is still pursuing Mr. Lee's organization and the disappeared "Rak" after the bloody fight at Yongsan Station, and Brian, who has reappeared, and a new character "Big Knife." Believer 2 follows Won-ho's investigation of looking for "Rak," who disappeared after Brian's incarceration, while getting to the core of the elusive drug cartel.
Cast: Cho Jin-woong, Cha Seung-won, Han Hyo-joo, Oh Seung-hoon, Kim Dong-young, Lee Joo-young
Director: Baik
Release Date: Fall 2023
SERIES
Gyeongseong Creature Season 1
Logline: A creature thriller set in the spring of 1945 – one of the darkest times in Korean history – about two young people struggling to survive as they face a monster born out of human greed. Korea's top talents Park Seo-jun and Han So-hee team up for the first time through this series.
Cast: Park Seo-jun, Han So-hee, Claudia Kim, Kim Hae-sook, Cho Han-cheul, Wi Ha-jun
Director: Chung Dong-yoon
SERIES
The Brothers Sun
Logline: When the head of a powerful Taiwanese triad is shot by a mysterious assassin, his eldest son, legendary killer Charles "Chairleg" Sun (Justin Chien) heads to Los Angeles to protect his mother, Eileen (Michelle Yeoh), and his naive younger brother, Bruce (Sam Song Li) – who's been completely sheltered from the truth of his family until now. But as Taipei's deadliest societies and a new rising faction go head-to-head for dominance, Charles, Bruce and their mother must heal the wounds caused by their separation and figure out what brotherhood and family truly mean before one of their countless enemies kills them all. The Brothers Sun is co-created by Brad Falchuk and Byron Wu and is directed by Kevin Tancharoen and Vie Nguyen.
Cast: Michelle Yeoh, Justin Chien, Sam Song Li, Highdee Kuan, Joon Lee, Alice Hewkin, Jon Xue Zhang, Jenny Yang, Madison Hu, Rodney To
Co-Creators: Brad Falchuk and Byron Wu
SERIES
Obliterated
Logline: From the creators of Cobra Kai, a high-octane action-comedy that tells the story of an elite special forces team that thwarts a deadly threat to Las Vegas. After their celebratory party, filled with booze, drugs and sex, the team discovers that a bomb they deactivated was a fake. The now intoxicated team has to fight through their impairments, overcome their personal issues, find the real bomb and save the world.
Cast: Shelley Hennig, Nick Zano, Paola Lázaro, Eugene Kim, Alyson Gorske, Terrence Terrell, Kimi Rutledge, C. Thomas Howell, Carl Lumbly, David Costabile, Costa Ronin, Lindsey Kraft, Tobias Jelinek, Minnie Mills, Virginia Madsen, Lori Petty, Keston John, Clive Standen, and Ivan G'vera
Executive Producers/Showrunners: Jon Hurwitz, Hayden Schlossberg and Josh Heald
SERIES
DNA Do Crime
Logline: After a robbery of epic proportions on the border between Brazil and Paraguay, federal police undertake an unprecedented investigation. Following a DNA trail, they discover that this is just the beginning of a thread that unravels, like no other, the construction of the crime in Brazil.
Cast: Thomás Aquino, Maeve Jinkings and Rômulo Braga.
Showrunner: Heitor Dhalia
SERIES
Sweet Home Season 2
Logline: The residents of Green Home who, in the previous season, delivered overwhelming tension as they risked their lives through bloody battles against their neighbors-turned-monsters – return again in season 2 to offer thrills and tension of a whole new different kind.
Cast: Song Kang, Lee Jin-uk, Lee Si-young, Ko Min-si, Park Gyu-young, Yoo Oh-seong, Oh Jung-se, Kim Mu-yeol, Jin-young etc
Directors: Lee Eung-bok, Park So-hyun
FILM
Carry On
Logline: Ethan Kopek, a young TSA agent, gets blackmailed by a mysterious traveler to let a dangerous package slip through security and onto a Christmas Day flight.
Cast: Taron Egerton, Jason Bateman, Sofia Carson
Director: Jaume Collet-Serra
SERIES
Pax Massilia
Logline: A group of policemen with particular methods track down a dangerous criminal in order to prevent Marseille from a bloodbath.
Cast: Tewfik Jallab, Jeanne Goursaud, Nicolas Duvauchelle, Lani Sogoyou, Olivier Barthelemy, Idir Azougli, Samir Boitard, Florence Thomassin, Diouc Koma
Directors: Olivier Marchal and Ivan Fegyveres