UAAP 85: Blue Eagles outlast Tamaraws
1,344 total views, 4 views today
Ateneo de Manila University put away Far Eastern University late, 79-70, in the UAAP Season 85 men's basketball tournament on Sunday, Oct. 2, at the SM Mall of Asia Arena.

Forthsky Padrigao and BJ Andrade led the short breakaway in the fourth frame for the Blue Eagles, conniving on a 14-5 run to take a 14-point lead with 6:07 left, 69-55.
But the Tamaraws inched to within five at the 1:08 mark on a Patrick Sleat drive but that would be the closest they could get, 70-75.
This as Padrigao drained a long three-pointer with 38.5 seconds to go to put the Blue Eagles back up by eight.
"Scrappy (win) for sure which is nothing new for the first UAAP game of the season I think that's the standard line for most coaches," said Ateneo head coach Tab Baldwin.
"I think we have big players who make big shots which is not really the formula the one I like. Nonetheless, it's excellent to have players who have the toughness to take those shots."
Padrigao launched 19 points with seven assists and six rebounds, while Andrade delivered 15 points of his own.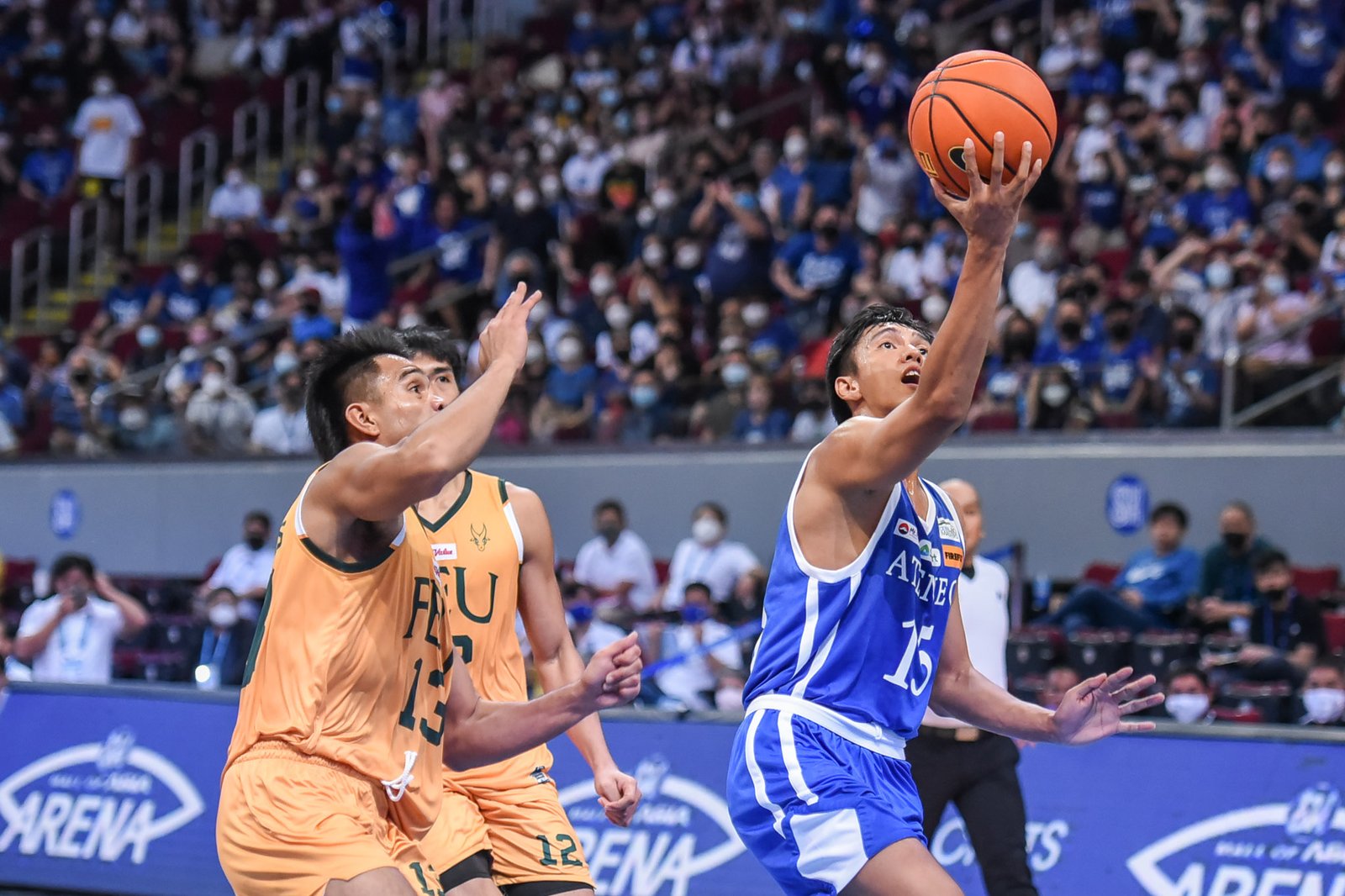 Dave Ildefonso and Ange Kouame tallied double-doubles in points and rebounds with 14-12 and 12-14, respectively.
L-jay Gonzales had 19 points founded on five triples while Sleat unloaded 15 of his 17 points in the second half.
Ateneo will meet National University on Wednesday at the nightcap of the quadruple-header at PhilSports Arena at 6:30 pm.
The Tamaraws look to enter the win column earlier in the day at 11 am against University of the East.
The Scores:
ATENEO 79 — Padrigao 19, Andrade 15, Ildefonso 14, Kouame 12, Koon 11, Ballungay 3, Daves 2, Chiu 2, Lazaro 1, Gomez 0, Garcia 0, Quitevis 0.
FEU 70 — Gonzales 19, Sleat 17, Sajonia 10, Anonuevo 9, Torres 5, Tchuente 3, Alforque 3, Tempra 2, Sandagon 2, Gravera 0, Celzo 0, Guibao 0, Bagunu 0.
Quarters: 24-16, 30-36, 55-50, 79-70.