CBS 'Ghosts' Makes San Diego Comic-Con Its Haunting Ground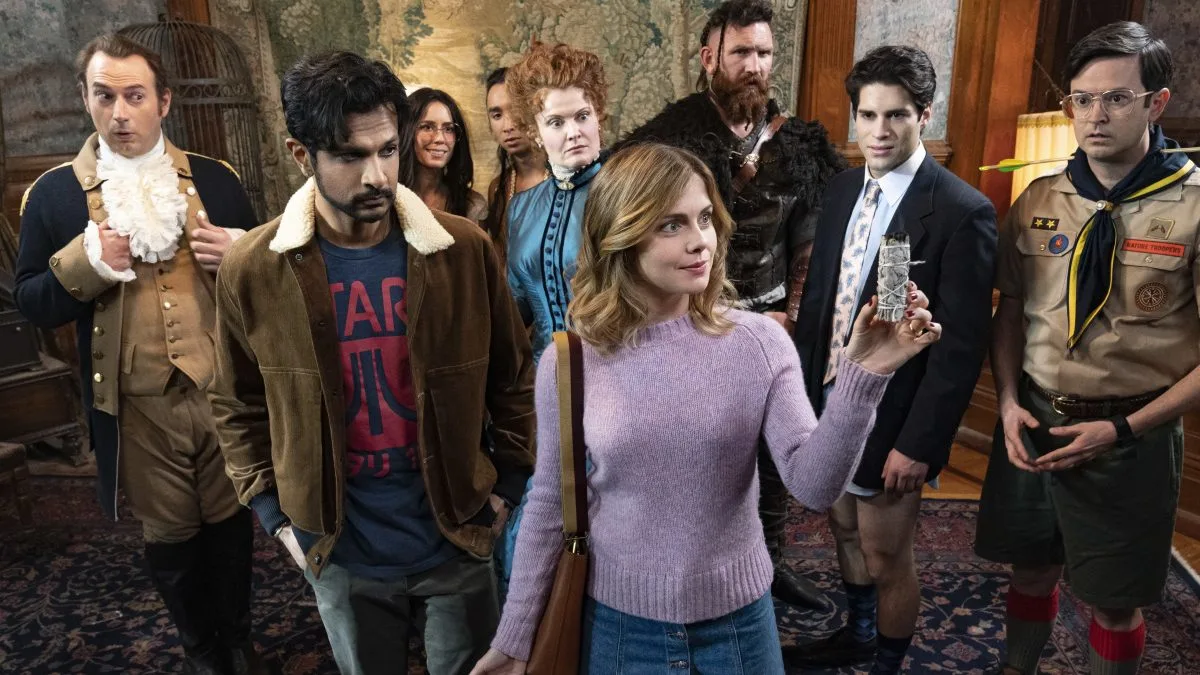 CBS Original GHOSTS, television's number one new series and the number one comedy on Paramount+, will make its San Diego Comic-Con debut for a panel discussion, a marketing activation and a Web3 Metaverse experience.
The Panel:
The full cast, including "livings" Rose McIver and Utkarsh Ambudkar, as well as "ghosts" Brandon Scott Jones, Richie Moriarty, Danielle Pinnock, Asher Grodman, Román Zaragoza, Sheila Carrasco, Rebecca Wisocky and Devan Chandler Long, and executive producers Joe Port and Joe Wiseman, will take part in a panel discussion from 1:00-2:00pm on Thursday, July 21 in Ballroom 20 at the San Diego Convention Center. The panel will be moderated by series guest star Matt Walsh and will treat fans with never-before-seen footage.
The Activation:
As part of CBS's "Summer of GHOSTS" immersive marketing campaign honoring the "recently departed" first season and its upcoming sophomore season this fall, GHOSTS will show up in San Diego with Pinecone Trooper Pete's "Friend Zone," an activation with a campsite feel in honor of scout leader ghost Pete, whose unfortunate archery accident left him with an arrow through his neck for eternity. The activation will be set up at the Interactive Zone at Petco Park from July 21-24, and will feature a "scare-free" archery activation – but nothing is what it seems at this campsite setup on 'the lawn' of The Woodstone Mansion – the show's setting and home to the ghosts. Fans can connect with Ghosts and 'the other side' through psychic mediums and programming that'll give attendees insight into their past, present, and future lives.
The Metaverse:
Fans who can't make it to San Diego can still enjoy the GHOSTS experience in the Metaverse, which, beginning on July 21, will take fans on an immersive journey through the haunted Woodstone Mansion to solve puzzles, undertake quests and earn limited edition, collectible NFTs (Non-Fungible Tokens). The GHOSTS mansion was meticulously recreated using actual blueprints and features surprising interactions with the show's main characters.
Season two of the critically acclaimed #1 new comedy/series and breakout hit GHOSTS will premiere Thursday, Sept. 29 in its new time slot at 8:30 PM on CBS. The entire first season is available to stream on demand on Paramount+. The series is produced by CBS Studios in association with Lionsgate Television and BBC Studios Los Angeles Productions. It is based on the BBC Studios distributed format "Ghosts." Additional information on GHOSTS' activities at San Diego Comic-Con will be shared within coming weeks via the show's official Instagram and Twitter accounts @GhostsCBS.