Have NBA games become a farce, no thanks to COVID protocols?
11,289 total views, 1 views today
By Henry L. Liao
Have the outcomes of current NBA games become a farce?
With several top-tier players unavailable to play after being placed under the NBA's COVID health and safety protocols, their teams have suddenly vulnerable so much that the results of their games are not reflective of their real strength.

What are the reigning NBA champion Milwaukee Bucks without two-time league MVP Giannis Antetokuonmpo?
What are the Brooklyn Nets without Kevin Durant and James Harden? Never mind the eccentric Kyrie Irving, who is now just an afterthought while remaining to be unvaccinated as the "voice for the voiceless" as he claims.
Chicago and Cleveland are the second-and third-ranked teams in the East behind Brooklyn are doing fine, but how long can they keep their spots with the protocols-related loss of Zach LaVine (the Bulls just got back DeMar DeRozan last December 20 MT vs. the Lakers) and leading NBA Rookie of the Year contender Evan Mobley and rising stars Jarrett Allen and Isaac Osoro, respectively?
The Golden State Warriors have surrendered the NBA leadership in the team standings to the virus-unscathed Phoenix Suns (who yesterday got back star Devin Booker from a seven-year leave due to hamstring injury) and now face life without Andrew Wiggins and Jordan Poole, a starter who has developed into a high-scoring guard in the absence of veteran Klay Thompson, who is not expected to make his debut this season until early January after being sidelined for more than two years due to ACL and Achilles surgeries?
Life also has been hard for two teams struggling to stay in the hunt for a play-in (7th to 10th places) in their respective conferences, the Atlanta Hawks (East) and Sacramento Kings (West) due to the protocols. Both clubs have been toiling without their No. 1 scorers (lead guards) – Trae Young and D'aaron Fox, respectively.
Currently, the Kings (13-18) precariously rank 10th in the West and seek to end the NBA's longest non-playoff active streak at 15 years (since 2006).
The Hawks (14-15) are on the outside looking in at No. 11 in the East, after a stunning East finals playoff stint last campaign.
Christmas Day has a five-game bill. (It will be held on December 26, Manila time.) It features Atlanta at New York, Boston at Milwaukee Golden State at Phoenix, Brooklyn vs. the dysfunctional LA Lakers (marking the debut of the Crypto com Arena, formerly Staples Center, as LAL's homecourt), and Dallas at Utah.
But Young, Antetokuonmpo, Durant, and Harden won't be able to cheer you up due to protocols and at least two other prominent stars will be on the sidelines due to injuries – Luka Doncic of Dallas and Anthony Davis of the Lakers.
Truly, Christmas won't be the same without them.
And if you are still counting, nearly 100 players have entered the COVID-19 protocols this season, including around 85 in December alone.
Around 97 percent of NBA players have been vaccinated and more than 60 percent have received their booster shots. Yet, a majority tested positive. Seven games have been postponed so far – two each by Chicago and Brooklyn, both of whom have had a league-high 10 cases at one time.
With social distancing among the players and their families expected to take a back seat during the Christmas and New Year holidays, expect more cases of COVID-19 attacking the NBA.
Lastly, we don't have Frank Vogel to kick around on Christmas Day as the Lakers head coach, along with his assistant Phil Handy and six players, led by Talen Horton-Tucker, Dwight Howard, Avery Bradley, and rookie Austin Reaves, since he will be in isolation while under protocols.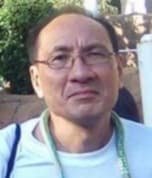 Latest posts by Henry Liao
(see all)