FM Alekhine Nouri rules Standard chess
2,739 total views, 1 views today
FIDE Master Alekhine "Bbking" Fabiosa Nouri ruled via tiebreak the Philippine Sports Commission-National Chess Federation of the Philippines selection process (Standard event) at the PACE headquarters in Quezon City last Friday.

Nouri, tied for first-second places with International Master Jan Emmanuel Garcia 7.0 points apiece in the 90 minutes + 30 seconds time control event organized by National Chess Federation of the Philippines headed by chairman/president Prospero "Butch" Pichay Jr. With the highest tiebreak points, Nouri took the title while Garcia finished second.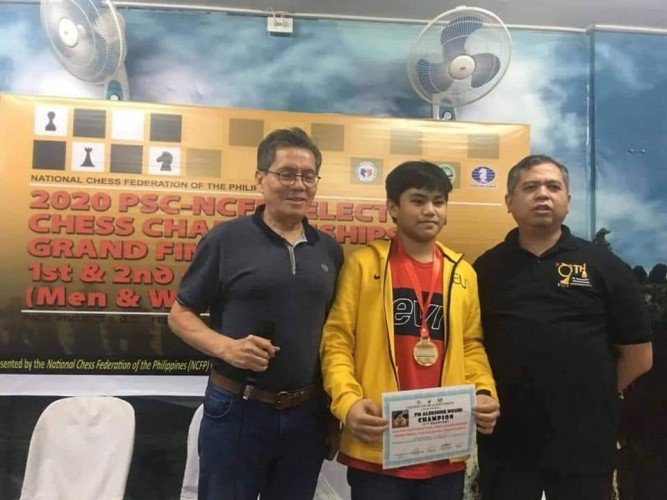 Nouri, youngest participant at 14 years old, a grade 7 pupil of FEU-Fern Diliman, Quezon City will only need to finish solidly in the second and final round set Feb. 24 to March 1 also at the PACE for his spots in the national squad according to newly-installed NCFP executive director Atty. Cliburn Anthony Orbe.
"14-year old FM Alekhine Nouri, the youngest in a very strong field of current and aspiring National Pool players, some of them veterans of several Chess Olympiads, ruled the 1st half of the 2020 PSC-NCFP Selection Grand Finals held at the Philippine Academy for Chess Excellence in Quezon City. That a 14-year old topped this strong tournament augurs well for Philippine Chess. We have another strong prospect for a world-class player in the future. Congrats Alekhine and good luck in the second half." said newly-installed NCFP executive director Atty. Cliburn Anthony Orbe.
Rounding up the top 12 were IM Ricardo de Guzman (3rd), IM John Marvin Miciano (4th), CM John Merill Jacutina (5th), IM Barlo Nadera (6th), John Jasper Laxamana (7ht), FM Stephen Rome Pangilinan (8th), NM Rhenzi Kyle Sevillano (9th), IM Jerad Docena (10th), NM Jeth Romy Morado (11th) and Istraelito Rilloraza (12th).
Meanwhile, Woman International Master Bernadette Galas (9 points) emerged solo champion in the women's side with nine points, half a point ahead of Woman International Master Marie Antoinette San Diego and Woman Fide Master Allaney Jia Doroy with 8.5 points apiece. Completing the top 5 are WIM Mikee Charlene Suede (7 points) and Mhage Gerriahlou Sebastian (6 points).
Tournament director is GM Jayson Gonzales while chief arbiter is IA/NM Elias Lao Jr.