PBA: Ginebra finishes off Meralco to capture 3rd Govs Cup title
Barangay Ginebra San Miguel captured their 3rd PBA Governors' Cup title in 4 seasons after finishing off the Meralco Bolts, 105-93 in Game 5 of their 2019 Finals series Friday at the Mall of Asia Arena.

The Gin Kings turned the tables in the 4th quarter, similar to most of their victories throughout the series, to gain control and eventually finish the series shorter compared to the previous 2 series the two franchises had.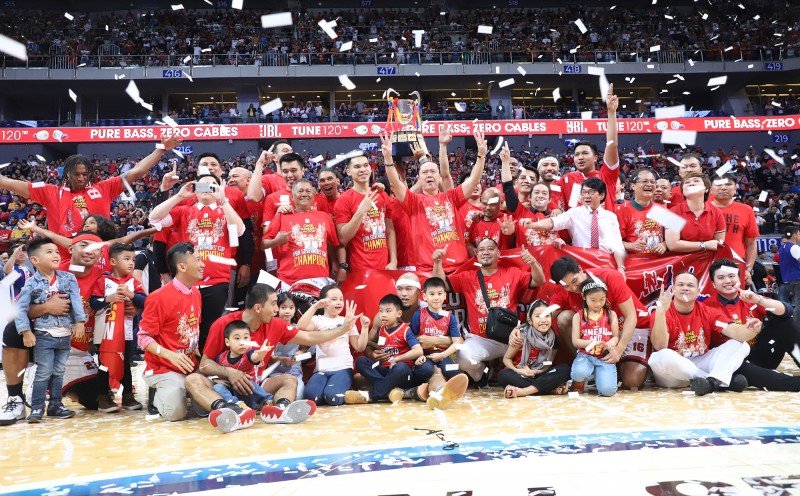 Japeth Aguilar scored a team-high 25 points and had 8 boards and 4 swats, en route to being hailed Finals MVP of the championship.
Justin Brownlee added 24 points, 7 rebounds, and 10 assists while Stanley Pringle provided 17 points, 9 boards, and 6 dimes.
All 5 Ginebra starters finished in double-digits in a remarkable display of balance and depth.
Determined to extend the series to another chapter, Meralco took a 26-19 lead after the opening quarter, and had a 46-40 lead at the half.
But Ginebra outscored Meralco 30-18 in the penultimate quarter before unleashing a crippling run in the payoff period.
With Meralco down by only 2, 86-84 and still knocking on the door, Aguilar, Brownlee, and Scottie Thompson joined forces for a 13-2 rally capped by a 3-point play from Thompson to make it 99-88.
The celebration began inside the jampacked arena after that, as Ginebra never looked back.
Allen Durham carried the Bolts with his 29 points, 21 rebounds, and 8 assists. Baser Amer had 17 while Chris Newsome added 13.