Juvic sets record PGT run
SILANG, Cavite – Juvic Pagunsan turned the final round of the ICTSI Riviera Classic into a victory walk, closing out with a 70 for a whopping eight-shot victory over Tony Lascuña and a record fourth straight championship on the Philippine Golf Tour here recently.

By posting a big six-stroke lead on a late charge in wet conditions Friday, Pagunsan just went through the motions in the last 18 holes – and with no one able to pose a challenge, he came out a clear winner in a rain-hit week that ended with clear skies.
He drilled in a side-hiller for birdie from 10 feet on the 18th and pumped his fist to close out with a 36-34 for a seven-under 277 total another P450,000 purse in his final PGT tournament before he resumes his campaign in Japan, his base in the last decade, in two weeks time.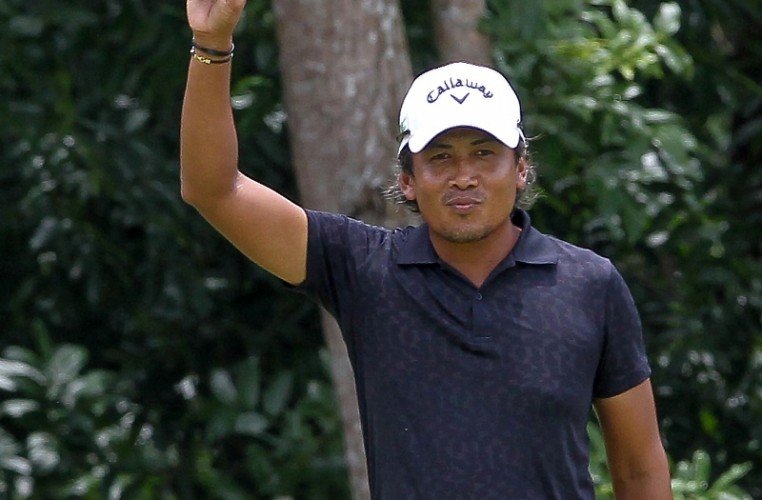 But more importantly, he had set a norm that could be tough to even match given the level playing field on the local circuit organized by Pilipinas Golf Tournaments, Inc.
"I'm very happy to win four straight (on the PGT). It seems that as I grow older, I am able to achieve more goals," said Pagunsan, who took a break from the Japan PGA Tour and ruled the Bacolod stop of the four-leg PGT Visayan swing last June. He retained the Negros Occidental crown the following week and made it three-in-row by nipping Michael Bibat in sudden death in Iloilo.
It was actually Pagunsan's second straight win here at Langer as he also reigned here last March when he beat Angelo Que by seven in a PGT Asia leg.
"For now this will be my last PGT tournament as I head back to international tournaments, especially in Japan," added Pagunsan. "But if my schedule permits, I might be able to join in other local events."
That could be good and bad news for the local pros. Good as Pagunsan would be away when the PGT holds a four-stage Mindanao swing next month. But bad after the region's former No. 1 hinted at re-joining the ICTSI-backed local tour if given a break.
Meanwhile, Lascuña secured runner-up honors at 285 despite bogeys in the last two holes for a 71 while reigning Philippine Open titlist Clyde Mondilla birdied four of the last nine to save a 69 and claim third place at 286.
"I made sure that I would be the runner-up. Juvic played really good in the last two days. I believe the third round was crucial," said Lascuña, trailed Pagunsan by just two after 36 holes but hobbled with a 72 as against the leader's decisive 67. "I got tired after the third day and lost steam today."
Rupert Zaragosa posted his best finish in a rookie season marred by missed cut stints, closing out with a 69 for solo fourth at 287 while Dutch Guido Van der Valk, who took the other Visayan leg in Cebu, wound up fifth with a 288 after a 72.