Tigresses chalk up 4th win
664 total views, 6 views today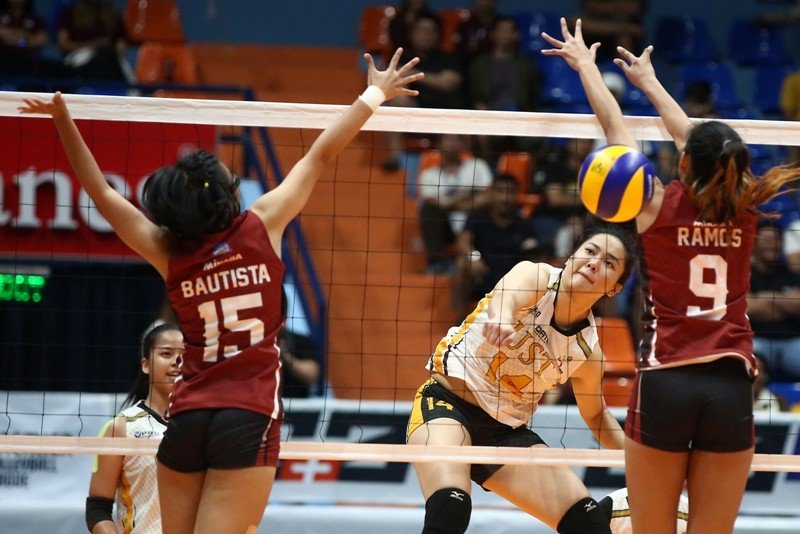 UST broke away in a back-and-forth third set, overcame a big deficit in the fourth then survived UP's resolute stand in the stretch to hack out a 22-25, 25-20, 25-18, 26-24 victory and stretch its win run to four in the Premier Volleyball League Season 2 Collegiate Conference before a big Sunday crowd at the Filoil Flying V Center in San Juan.

Stunned by the Lady Maroons' strong start, the Tigresses fought back in the next three, drawing big games from Eya Laure, Christine Francisco and Carla Sandoval while showing poise in the face of the Lady Maroons' big comeback to nail their fourth straight victory in the mid-season conference of the league organized by Sports Vision.
Laure, an incoming rookie, fired 12 kills, scored five aces and a kill block to finish with another solid 18-hit game while Francisco backed her up with 16 markers and Sandoval came off the bench to deliver 12 points for the España-based school in the tournament backed by Mikasa and Asics.
UST overcame an 11-16 deficit in the fourth but lost a 21-19 led as UP struck back and forced a series standoffs, the last at 24. But the Lady Maroons fell behind again on a service error and the Tigresses scored the match clinching point on Laure's contested baseline hit.
Isa Molde and rookie Nicole Magsarile combined for 25 points for UP, which, like UST, is priming up for the upcoming UAAP wars.
After leveling the game with a big second frame romp, the Tigresses pulled away in a tight third set duel, scoring three straight hits to shatter a 16-all count. The Lady Maroons sued for time to re-organize but the Tigresses sustained their hot charge, piling up three more points to break the game open.
UP broke the spell with a hit but UST countered and the Tigresses roared to victory on an ace after both teams traded service errors to head to their first four-set game after sweeping their first three matches.
Earlier, UST rolled to its fourth straight win in men's play the hard way, surviving St. Benilde, 25-23, 26-24, 25-23, and matching Adamson's hot start after the Falcons trounced the Perpetual Help Altas, 25-15, 25-21, 25-12.
The two teams clash for the lead on Aug. 11.
Paolo Pablico fired 16 points while Leo Miranda chipped in 10 hits for the Falcons, whose defense likewise held the Altas to just 48 points in three sets.
The Tigers, on the other hand, bucked an erratic stand that saw them commit 32 errors as they proved steadier than the Blazers at the finish of each frame.
Joshua Umandal and Manuel Medina combined for 31 hits for UST while Ruvince Abrot had nine hits and Owen Bacani and Francis Basilan each fired eight points for St. Benilde, which slipped to 1-2.