Biggest, strongest Ironman 70.3 Phl up in Cebu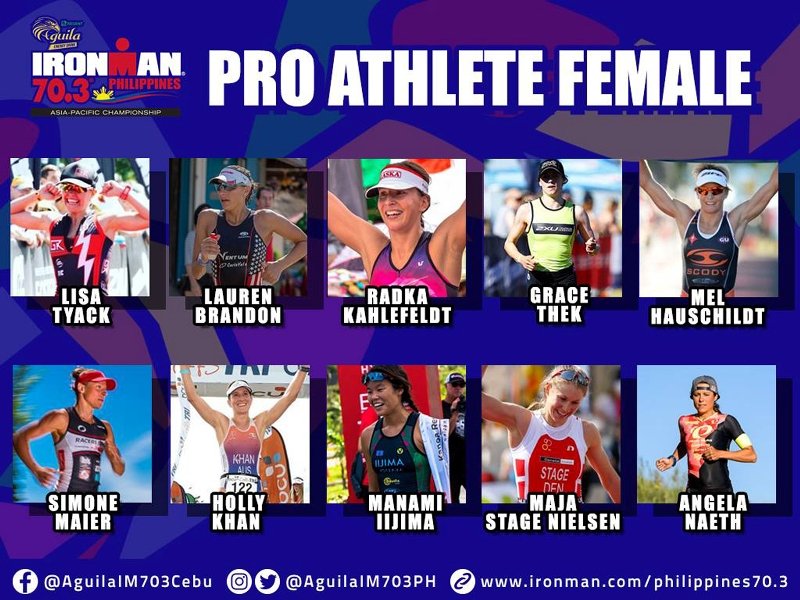 Twenty-one of the world's leading and rising male triathletes and 17 in the women's side gear up for what promises to be a battle royale in the biggest gathering ever of endurance runners in Ironman 70.3 Philippines which unfolds Aug. 5 at the Shangri-La Mactan Resort and Spa in Lapu Lapu City.

Tim Reed, one of Australia's best triathletes and winner of the event the last three years, will be hard-pressed in his drive for a fourth championship with a slew of equally talented rivals all primed up for the keenly-awaited put up by title sponsor Aguila Energy Drink and Regent Food Corp. and organized and produced by Sunrise Events, Inc.
Mexican Mauricio Mendez, the former XTERRA champion and winner of the inaugural Ironman 70.3 Davao last March, 12-time Ironman New Zealand champion Cameron Brown and three-time world titlist Craig Alexander are but three of the early favorites to foil Reed's record bid in the grueling 1.9km swim-90km bike-21.2km run event.
"Everybody is excited for this particular Ironman race for its star-studded cast in the centerpiece pro division and a championship course ready to challenge even the best in the fold," said Wilfred Uytengsu, founder of SEI, which incidentally is marking its decade-long staging of triathlon events in the country.
Sam Betten, another top Aussie triathlete who considers Ironman 70.3 Cebu as one of the best Ironman events in the world, is also in the mix along with Kevin Collington, Brad Williams, Matt Burton, Luke McKenzie, Braden Currie, Matthew Chrabot, Josh Amberger, Nathan Groch, Brent McMahon, Mike Phillips, Casey Munro, Michael Raelert, Jakub Langhammer, David Mainwaring and Tyler Butterfield – all raring to prove their worth in the blue-ribbon event backed by presenting sponsors Alaska Milk Corp., Department of Tourism and Tourism Promotions Board Phl.
But it won't be an all-male show as an equally star-studded cast braces for a spirited duel for the women's tiara, to be led by Czech Radka Kahlefeldt, who will be shooting for her third crown after ruling the Ironman 70.3 Subic last year and the first Ironman 70.3 Davao.
But like Reed, the former No. 1 in the European Triathlete Union faces a crack roster of rivals out to spoil her drive, including veteran campaigner Dimity Lee Duke, four-time Philippine champion Caroline Steffen and former Ironman Australia titlist Beth McKenzie.
Throw in Anna Eberhardt, Lauren Goss, Beth McKenzie, Bruna Mahn, Sabrina Stadelmann, Saleta Noquiera, Lisa Tyack, Lauren Brandon, Grace Thek, Mel Hauschildt, Simone Maier, Holly Khan, Manami Iijima, Maja Stage Nielsen and Angela Naeth and this upcoming Ironman 70.3 Cebu has all the trimmings of a classic edition.
The elite pro field is part of a record cast of 2,700 triathletes from over 51 countries vying in the event, which also boasts of the one biggest and most complete triathlon expos to date. All finishers will receive podium trophies and medals designed and hand made by world class Cebuano designer Kenneth Cobonpue.
Local celebrities will also spice up the event, backed by venue hosts Province of Cebu, City of Lapu Lapu and Shangri-La's Mactan Resort and Spa and bike course partners City of Cebu, Mandaue and Talisay, official logistics and courier partner 2GO Express, official hydration partners Gatorade, official energy gel Gu, official swim cap TYR, official footwear and apparel Asics and official registration partner Active Network and official hotels BE Resorts Mactan, Crimson, Waterfront Airport Hotel and Casino Mactan and Mont and Michel and Metropolitan Cebu Water District.
Other backers are David's Salon, Intercare, Prudential Guarantee, The Mactan Newtown and SunLife Financial, Air Asia, AlcoPlus, Cetaphil, CrampFix, DeVant, Fern-C, Mactan Cebu, Mont St. Michel Purified Drinking Water, Omega Pain Killer, Prozza, Sanicare, Smart, Ssangyong and Timex with Hyper HD on Cignal, The Philippine Star, Trilife, AsiaTri.com and Finisher Pix as media partners.