Pacquiao Dispels Rumors on Health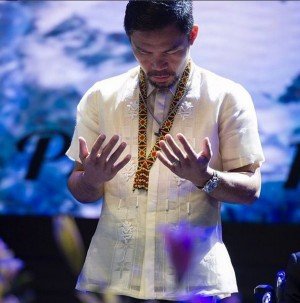 Legendary boxer Manny Pacquiao dispelled rumors about his health and assured his fans, friends and family that he is perfectly well following recent reports that claimed otherwise.

A week before his historic knockout win over WBA champion Lucas Matthysse in Kuala Lumpur, Malaysia, Pacquiao admitted to have undergone a routine medical and physical checkup, a requirement for all boxers before they step inside the ring.
Pacquiao, the only eight-weight division champion of the sport, breezed through the tests as always like in all of his fights in the last 23 years, fighting throughout the world.
"I feel fine. I feel great. I thank God for giving me strength everyday and keeping me protected through all the years of my life. Winning by knockout over Matthysse was a bonus," said Pacquiao, who turns 40 in December.
It was the 60th win for the Philippine champion-turned-senator and the 39th knockout in his sterling career. "I really wanted to win this fight and I challenged myself so much in training that I pushed myself to the maximum limits of my body," said Pacquiao. "I always knew that training hardest makes every fight easier."
Heading into the last stages of training, Pacquiao took to punishing and lung-busting road work up in the mountains of Sarangani province where the roads were steep and narrow despite the initial disagreements with his coaching staff.
"Manny knows best. He is not the young Manny of years past but we knew that he was testing himself mentally and psychologically more than the physical," said Justin Fortune, Pacquiao's long-time strength and conditioning coach, referring to the many times Pacquiao took the team to the mountains for the "killer" road challenge.
"Pumayag na rin kami kasi mas alam naman ni Manny ang kanyang katawan. Hindi niya gagawin iyon kung hindi niya kaya," added chief trainer Buboy Fernandez, beaming with joy after steering the team to victory for the first time.
"Walang problema iyan. It's just part of medical requirements for athletes," said Pacquiao, following reports of ailments prior to the match.
Doctors cautioned the public not to make medical opinions.
"First and foremost, we protect the patient. We give clearance as we deem fit. Individuals who have no medical background should refrain from giving out opinions especially if they do not have the medical records and experience. Patients also have the right to secrecy and that is strictly confidential and protected by our laws," said a doctor who requested anonymity.