Kim Joo Hyung a marked man at ICTSI Forest Hills Championship
702 total views, 2 views today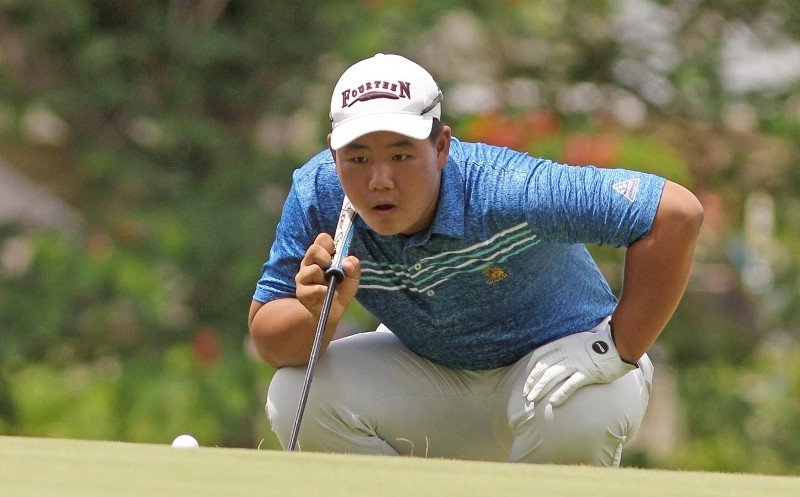 After scoring a maiden victory in record fashion on the Philippine Golf Tour at Pueblo de Oro, Korean Kim Joo Hyung goes for another first – a PGT Asia diadem in the $100,000 ICTSI Forest Hills Championship beginning tomorrow (Wednesday, July 11) in Antipolo.

While he said he feels good about nailing his first win and becoming the youngest winner on the local circuit, the 16-year-old shotmaker has opted to downplay his chances for another title crack against a tougher field on a tougher Forest Hills Golf and Country Club's Nicklaus course.
"I feel good and my game is in shape," said Kim, who bested the cream of the local pro crop plus a slew of foreign aces to win the Pueblo De Oro Championship in Cagayan de Oro over the weekend. "But for me, right now it's just a learning process. Even if I won last week, I'm still trying to learn right now."
He expects to learn more from a souped-up field this week and on a rolling course made tougher by uneven terrain, which requires well-placed shots due to elevation changes and multiple ravines. But as with all mountain courses, the greens are the ultimate challenge, particularly one's recognition of the general lay of the land and its effect on one's putt, which is so crucial to a good round.
"The course is a little bit tricky. But if I want to win again, every part of my game needs to be good," said Kim, bracing for four days of test of shotmaking and will from the best in the fold in the fourth leg of the second season of the region's newest circuit put up by ICTSI.
They include Jobim Carlos, whom Kim beat by one at Pueblo and who is gunning for a second PGTA victory after scoring a breakthrough at Riviera last month, Tony Lascuña, the reigning back-to-back winner at PGT Forest Hills but still in search of a first win this season, and reigning PGT Order of Merit champion Clyde Mondilla, who hopes to sustain his strong finish at 11th at Pueblo following a number of missed cut stints due to bad back.
Meanwhile, a select group of pros tests the Nicklaus layout today (Tuesday) as they team up with officials and amateur guests of the event's chief backers, including ICTSI, Custom Clubmakers, Meralco, Champion, Summit Mineral Water, K&G Golf Apparel, BDO, Sharp, KZG, PLDT and M.Y. Shokai Technology, Inc. in the pro-am tournament.
Meanwhile, PGT Del Monte leg winner Nicolas Paez of the US heads the roster of foreign aces tipped to contend for the top $17,500 purse in the 72-hole championship organized by Pilipinas Golf Tournaments, Inc., along with Thais Wisut Artjanawat and Ittiphat Buranatanyarat, winner at PGT Sherwood in 2015, Andrew Campbell and Damien Jordan of Australia, South African Mathiam Keyser, Finland's Janne Kaske and fellow Americans John Michael O'Toole, Brett Munson, Lexus Keoninh and Eliott Hume.