World Boxing Super Series latest news: Dorticos delivers powerful 2nd Round KO agaisnt Kudryashov
440 total views, 1 views today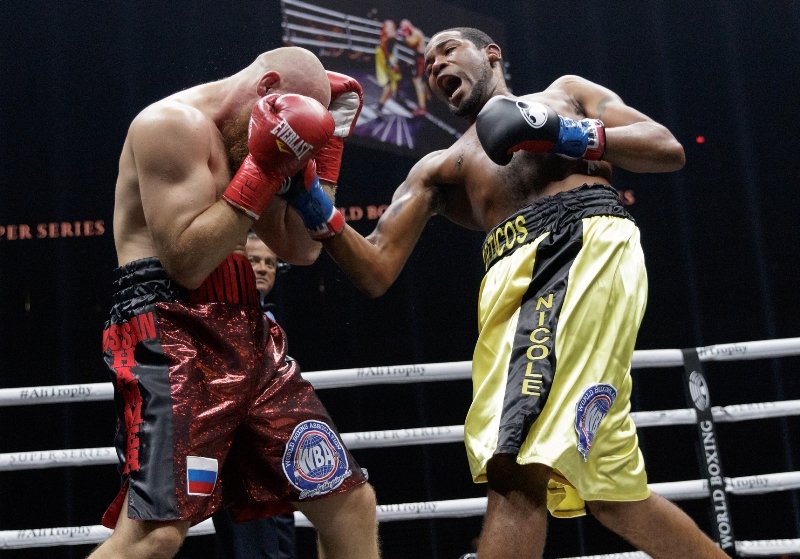 WBA Cruiserweight World Champion Yunier Dorticos (22-0, 21 KOs) retained his title and stamped his place in the World Boxing Super Series Cruiserweight Semi-finals Saturday night with a sensational second round knockout of Dmitry Kudryashov (21-2, 21 KOs) in their quarter-final bout from the Alamodome in San Antonio.

The unbeaten champion Dorticos landed a thunderous overhand right after Kudryashov threw a glancing jab during a second round exchange and sent the Russian to the canvas. Kudryashov attempted to get to his feet, but referee Rafael Ramos had seen enough and ended the bout at 2:10 into the second round.
"I knew that he was going to come at me and I waited and delivered the shot," said Dorticos. "Once it landed I knew it was over. It is an honor to be competing in the World Boxing Super Series. To be able to go after the Muhammad Ali Trophy is a privilege and a pleasure. I want to prove to the world that I am the best cruiserweight in the world right now."
After a first round that saw both men feel each other out and land only a few significant blows, a heated exchange erupted in the opening moments of the second round with power punches being thrown from all angles.
Dorticos appeared to hurt Kudryashov early in the round as he connected with a right hand that froze Kudryashov on the ropes. Dorticos piled on and delivered numerous right hooks with no response from his opponent until Kudryashov was eventually able to fight off of the ropes.
"I'm very upset right now," said Kudryashov. "I was very well prepared. We're at a heavy weight and one punch can change everything. He hit me with a good shot and I have no excuses. I thought that I would be able to get up at the eight count but the ref decided to stop the fight. The ref knows when to stop the fight so I agreed with it. All respect to Dorticos but I was expecting a victory and I was expecting to stop him. I have to give him all the credit tonight."
Shortly after the action returned to the center of the ring, Dorticos was able to land the decisive blow and signal an end to the match. Dorticos will continue his quest for the Muhammad Ali Trophy in the semi-finals when he takes on the winner of the WBSS quarter-final bout between IBF Champion Murat Gassiev and former champion Krzysztof Wlodarczyk on October 21 in New Jersey.
"I know that I want to fight Murat Gassiev," said Dorticos. "I know he's watching me, and I'll be watching him. If he can take care of business, I would love to fight him. I'm ready to make that fight happen."
In the WBSS cruiserweight reserve match, once-beaten Keith Tapia (18-1, 11 KOs) dropped previously once-beaten Lateef Kayode (21-2, 16 KOs) and won a unanimous decision in their 10-round contest.
"I usually start warming up in the fourth or fifth round, but I started much faster tonight," said Tapia. "I knew I had the advantage in speed and I took advantage of it. I haven't been in the ring for a year, but my team got me ready and in great shape for this fight. My timing was the key to the fight. My trainer told me Kayode would drop his left hand and I'd be able to land my right hand, and that's what I did."
Tapia sprinted out of his corner to start the fight and set the tone early, smothering Kayode in the corner with a flurry of punches. While Kayode was able to survive the round on his feet, it set the pace for the remainder of the match.
"I tried to stay on my game plan," said Kayode. "He was very fast but he did not hurt me. I thought I deflected a lot of his shots. When I tried to attack him he started moving. I had to adjust my game plan. I didn't see the punch that knocked me down. I heard the bell and then the punch was there. I think he started the punch before the bell rang."
Representing Puerto Rico, Tapia found a home for his powerful right hand all night and connected flush on Kayode's chin and dropped him as the bell sounded to end round six. Kayode was again able to continue to continue but found more trouble in the late rounds as he was stunned late in round eight and had a cut that started earlier in the fight open up at the end of round nine.
After 10 rounds the judges awarded Tapia the unanimous decision by scores of 100-89 twice and 99-90.
"Fights like this are going to get me to the championship level," said Tapia. "I've always felt like I'm a champion since I started in this sport. I'm ready to fight anybody. I'll take a couple days off then get right back in the gym."