Duterte urged to call for strict enforcement of smoke-free EO and higher tobacco taxes in SoNA
719 total views, 1 views today
In anticipation of the second State of the Nation Address (SoNA) to be delivered by President Rodrigo Duterte next week, civil society groups urged the President to call for the strict enforcement of Executive Order No. 26 s. 2017, also known as the "smoke-free EO", and higher tobacco taxes.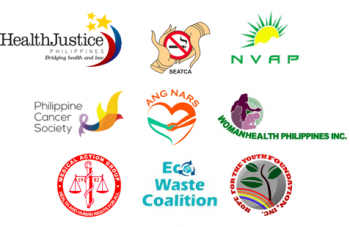 "We hope that in his upcoming SONA, President Duterte, who has always championed tobacco control measures even when he was still a mayor, will enjoin law enforcers to ensure that the provisions of the smoke-free EO are strictly implemented. We also ask the President to strongly encourage municipal and city councils to adopt their own smoke-free ordinances for the protection of public health against toxic smoke and cigarette butt litter," groups said.
Groups include HealthJustice Philippines, Southeast Asia Tobacco Control Alliance, New Vois Association of the Philippines, Philippine Cancer Society, ANG NARS, EcoWaste Coalition, Medical Action Group, WomanHealth, and Hope for the Youth Foundation.
The smoke-free EO imposes a nationwide smoking ban in public and sets guidelines for establishing designated smoking areas. Signed by Duterte last May 23, the order is set to take effect on July 22, 2017.
The EO is designed to protect the public from secondhand smoke (SHS), which is known to increase the risk of developing lung cancer. The Philippines, a Party to the World Health Organization Framework Convention on Tobacco Control (WHO FCTC), is obligated to enact smoke-free laws that will protect the people from the harmful effects of tobacco smoke.
Furthermore, the groups are calling for significant increases in tobacco taxes.
"We call on President Duterte to advise the Congress to take urgent action to significantly increase tobacco taxes. Though WHO recognizes tobacco tax as one of the most cost-effective ways to discourage the youth from smoking and encourage current users to quit or reduce consumption, tobacco tax in the Philippines is still one of the lowest in the world. It must be raised to a level at which it can effectively prevent Filipinos, especially the youth, the poor, and other marginalized groups, from smoking," the groups said.
The cost of treating tobacco-related diseases outweighs government revenues in tobacco taxes. In 2015, the former set the Philippine economy back by PHP 204.40 billion. Excise tax collection in 2016, meanwhile, amounted to PHP 163.5 billion.
Exposure to tobacco smoke remains a leading cause of cancer among Filipinos. In the Philippines, 240 people die every day due to smoking-related diseases.
According to the Global Youth Tobacco Survey, 13.7% of students aged 13-15 in the Philippines are current users of tobacco products, and 8.9% of them are smokers.
Latest posts by Regino Cabang
(see all)