Tag Archives:
Palarong Pambansa
"Why not? It's a big honor for me to serve the national team," – Goldwyn Monteverde #UAAPSeason81 #BatangGilas
25 coed athletes here both from Grade School and High School will represent the locality in Region 4-A (Calabarzon) on the upcoming 62nd Palarong Pambansa in Davao City on April 27 to May 4, 2019.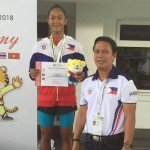 A Bacolod City native copped the country's fourth gold medal in record-setting fashion on Monday at the 2018 ASEAN Schools Games.