UAAP: Rondina wants to be remembered as player who 'gave it her all'
By Kevin Sox
It wouldn't be a dream ending for University of Santo Tomas spiker Sisi Rondina's final year for the Tigresses in the UAAP volleyball wars, as her squad faltered in straight sets to the newly-crowned champions Ateneo Lady Eagles on Saturday.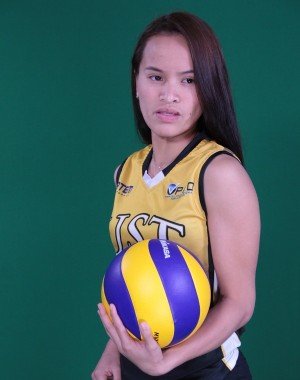 It could have been one heck of a way to cap her five-year stint with the Tigresses, as Rondina won Season 81 Most Valuable Player award on top of the Best Scorer award, and 2nd Best Outside Hitter trophy.
However, her Tigresses fell ultimately short.
Even Alyssa Valdez, arguably one of the best UAAP volleyball players ever, felt for Rondina as the former Lady Eagle also failed to capture a title in her final playing year.
I feel for Sisi also, being on her last year," said Valdez to ABS-CBN Sports. "I remember my time also, during my last year."
Rondina, recruited in 2013 out of Cebu where she was a Palarong Pambansa queen, was quick to accept her fate, showing maturity in spite of a heartbreaking Game 3 aftermath.
"When someone says 'Sisi Rondina' I just want them to remember me as someone who gave it her all for UST, someone that didn't let UST be put to shame," said Rondina in the vernacular to Inquirer.net.
"I still don't want to let go of UST, I love UST. I will be graduating this June and I didn't even know that my love and commitment for UST would be this much."
Rondina was quick to rise as one of the Tigresses' best offensive weapons in an era that included the likes of Pam Lastimosa, Mela Tunay, and Jessey De Leon, to name a few.
"I'm blessed to have them as teammates because even though we're only the second placers, this was an unforgettable moment for me," said Rondina. "I hope they don't forget me and that even though we weren't able to reclaim the crown at least we were able to go back to the finals."
Rondina was also a beach volleyball prowess during her time with the Espana squad. One final reminder she told her teammates before she departed was to always represent the school with beaming pride.
"I told my teammates that when the time comes that they would be the ones playing in the finals 'don't ever put UST to shame because I love that school and always fight for her. Love UST the way I loved UST.'"