75 Greatest NBA Players of all time
1,192 total views, 1 views today
by Henry L. Liao
It will be on an installment basis, that is the announcement of the NBA's official list of the 75 greatest players of all time.

To be aired on TNT and ESPN, the first 25 players will be revealed on October 20 Manila time, the second 25 on October 21, and the third and last 25 on October 22.
The league's 76th renewal unwraps on October 20 Manila time with a pair of interesting matchups – Brooklyn will be at Milwaukee (Unvaccinated Kyrie Irving will not play for the Nets this season unless he agrees to be jabbed; the Bucks will receive their NBA title rings in a pre-game ceremony) and Golden State will face the LA Lakers at Staples Center (the Warriors were 5-0 in the preseason while the Lakers owned the worst record at 0-6).
Three installments to get to 75 are just a bit too long a time to wait.
Be that as it may, here's my list of the 75 greatest players in NBA history.
Holdovers from the 50th Anniversary Team (October 1996), in alphabetical order, are 1-Kareem Abdul-Jabbar, 2-Charles Barley, 3-Rick Barry, 4-Elgin Baylor, 5-Larry Bird, 6-Wilt Chamberlain, 7-Bob Cousy, 8-Dave Cowens, 9-Billy Cunningham, 10-Dave DeBusschere, 11-Julius Erving, 12-Patrick Ewing, 13-Walt Frazier, 14-George (The Iceman) Gervin, 15-Hal Greer, 16-John (Hondo) Havlicek, 17-Elvin Hayes, 18-Earvin (Magic) Johnson, 19-Michael Jordan, 20-Jerry Lucas, 21-Karl (The Mailman) Malone, 22-Moses Malone, 23-(Pistol) Pete Maravich, 24-Kevin McHale, 25-George Mikan, 26-Earl (The Pearl) Monroe, 27-Hakeem (The Dream) Olajuwon, 28-Shaquille O'Neal, 29-Robert (Chief) Parish, 30–Bob Pettit, 31-Scottie Pippen, 32- Willis Reed, 33-Oscar (The Big O) Robertson, 34-David Robinson, 35-Bill Russell, 36-Dolph Schayes, 37-John Stockton, 38-Isiah Thomas, 39-Nate Thurmond, 40-Wes Unseld, 41-Bill Walton, 42-Jerry West, and 43-James Worthy.
This means I have delisted seven greats from the 50th Anniversary Team.
The new names that I expect to make it to the top 75 are the following:
44-Dominique (Highlight Film) Wilkins, 45-Kobe Bryant, 46-Kevin Garnett, 47-Tim Duncan, 48-Paul Pierce, 49-LeBron James, 50-Dirk Nowitzki, 51-Dwyane Wade, 52-Paul Pierce, 53-Stephen Curry, 54-Steve Nash, 55-Jason Kidd, 56-Anthony Davis, 57-Russell Westbrook, 58-Reggie Miller, 59-Carmelo Anthony, 60-Giannis Antetokuonmpo, 61-Kevin Durant, 62-James Harden, 63-Vince Carter, 64-Tracy McGrady, 65-Dwight Howard, 66-Yao Ming, 67-Chris Webber, 68-Chris Bosh, 69-Dennis Rodman, 70-Kawhi Leonard, 71-Mark Jackson, 72–Ben Wallace, 73-Tony Parker, 74-Chris Paul, and 75-Joel Embiid.
Now that you know my choices, what are yours?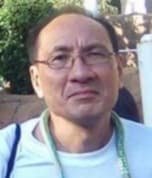 Latest posts by Henry Liao
(see all)