Award-winning Poet launching collection of poems on research and ruminations
An award-winning poet and professor at De La Salle University, Mesándel Virtusio Arguelles is launching his book about his research and ruminations on prostitution—Mujeres Publicas, independently published by Balangay Productions at Kwago's book bar in Warehouse Eight on June 28, 7-8pm. He and his editor and publisher Ronald Verzo will give a short talk about the process of making the book at the same night.

Mesándel Virtusio Arguelles's works and interests encompass books, conceptual writing, translation, film and video, installation, found object, and text-based experimentation. His erasure projects continue to explore and expand on the concepts of, among others, time and memory, language and loss, identity and anonymity, and sex and intimacy.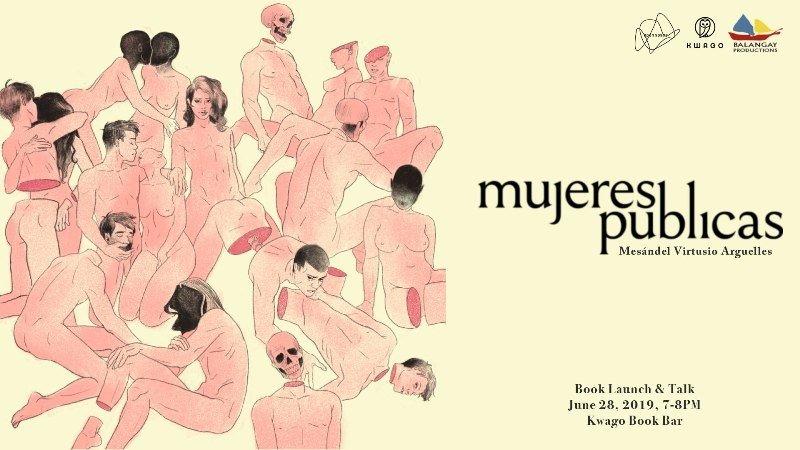 A recipient of multiple national awards such as the Don Carlos Palanca Memorial Awards for Literature and Maningning Miclat Poetry Award and fellowships from UP National Writers' Workshop and Bienvenido N. Santos Creative Writing Center National Workshop on Art and Cultural Criticism, Arguelles is the author of 19 books of and about poetry, and a co-editor of hal., a journal of new writing in Filipino. A finalist for the National Book Award twice, he works as a book editor and translator, and teaches literature and creative writing at the De La Salle University in Manila
where he also earned his doctoral degree in literature. His most recent books are Walang Halong Biro (DLSU Publishing House, 2018) and Mujeres Publicas (Balangay Productions, 2019).
"The whole book consists of short monologues, with the persona of a prostitute based on fictional characters such as Nana from Jean Luc Godard's Vivre sa vie and Jenine/Alberta Muñoz from Lav Diaz's Melancholia and also based on accounts on the lives of real persons who worked as a prostitute like Sien Hoornik (Clasina Maria Hoornik – van Gogh's partner) and the Japanese Sada Abe who was famous/infamous for killing his partner and cutting off his penis. Her life was also the basis of the controversial film In the Realm of the Senses done in 1976 by Oshima," the author shared.
The book is part of a Trilogy, Talik, a series where Arguelles examines the body, intimacy, relationships and sex. TALIK TRILOGY SET (Talik, Antares, Mujeres Publicas) will be available at a discounted price of Php850 on June 28, 2019, 7pm at Kwago Book Bar, Makati at the launch of Mujeres Publicas, the third and final installment of the series. LIMITED COPIES. Each book is sold at Php300. All books published by Balangay Productions. Covers, inside illustrations, and overall design by Kay Aranzanso.
FREE ENTRANCE. Sign up here for a free drink on June 28: http://bit.ly/freedrinkatmujerespublicas