NBA: Blazers-Thunder series turning into a psy war
By Kevin Sox
As the Oklahoma City Thunder have finally scored a win in their Western Conference first round playoff series against the higher-seeded Portland Trailblazers, both squads are engaging in a battle of mental toughness.

The Thunder beat the Blazers in Game 3 home, 120-108 to shorten the deficit to only 2-1 after Portland took home the first two meetings.
Chippy was one accurate way to describe Game 3, as it was heated and physical all throughout. Emotions boiled towards the end with the main stars of the series are all taking part in the shenanigans.
Thunder wing man Paul George was the center of the post-game extra-curriculars as he attempted a reverse double-pump slam with his team already on its way to win.
The Blazers were supposed to just dribble the time away but when Anfernee Simons decided to drive, Nerlens Noel swatted the attempt. Raymond Felton picked up the loose ball and moved the ball forward to George, who somewhat decided to cap a win with something more special.
Some Blazers like main man Damian Lillard had none of it, approaching officials at centercourt with the game officially over. Others like Evan Turner tried to hide his emotion.
"It wasn't anything. I think people coming around made it 10 times worse," said Turner via The Oklahoman.
"So, when they did that (dunk), it's like, 'Oh, so that's what y'all are doing?' At the same time, we beat them and it's the same thing. I still slap people on the butt and shook their hands. I've never had any different type of energy."
The sequence was only one of many events that happened throughout the course of Game 3.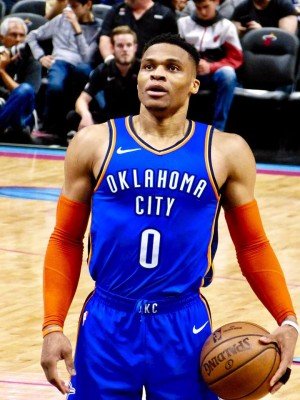 OKC reserve guard Dennis Schroder could be seen mimicking Lillard's signature "Dame Time" gesture with under two minutes to play and the home side comfortably up.
"Yeah, I did see it. I thought it was kinda funny that he waited so late in the game, when he knew the game was decided, to do it. And he also hadn't done that, he hadn't pulled that out the first two games. So I thought that was interesting," said Lillard per ESPN's Royce Young.
And of course, OKC's face of the franchise Russell Westbrook, who dropped 33 points and 11 assists in the win, also got involved with demonstrative celebrations after engaging in a shootout with Lillard in the third quarter.
With the Thunder trying to steal the momentum from the Blazers, both teams are now preparing for what is expected to be an even more feisty Game 4.