'Bad Times At The El Royale' : A Perilous Journey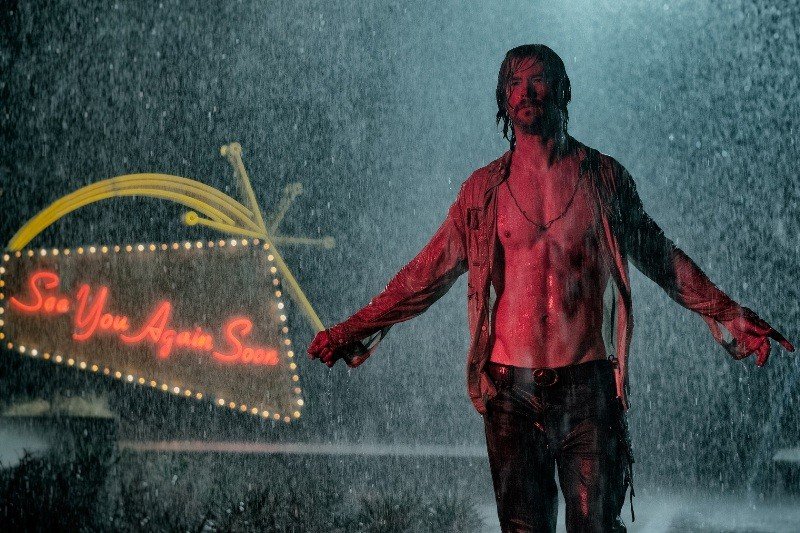 Stars collide in the upcoming R-rated intense crime drama "Bad Times at the El Royale" featuring the director's (Drew Goddard) dream cast composed of Academy Award-winner Jeff Bridges (Crazy Heart), Tony Award-winner Cynthia Erivo (Broadway's The Color Purple), Dakota Johnson (Fifty Shades trilogy), Emmy Award-winner Jon Hamm (Mad Men), Cailee Spaeny (Pacific Rim: Uprising), Lewis Pullman (Battle of the Sexes), and Chris Hemsworth (Avengers: Infinity War).

In "Bad Times at the El Royale", seven very different but equally lost souls converge on the El Royale, a once-glorious resort that has since fallen—like its visitors—into disrepute. Situated on the border between California and Nevada, the El Royale offers warmth and sunshine to the west; hope and opportunity to the east. It also straddles the colliding worlds of past and present. Once the hotspot of Tahoe, where the country's most famous celebrities and politicians comingled in and around the resort's casino, bar, bungalows and pool, the good times have now come to a close.
At the El Royale, where the shine has faded from its lobby and the laughter fallen silent, gather Father Daniel Flynn (Bridges), soul singer Darlene Sweet (Erivo), traveling salesman Laramie Seymour Sullivan (Hamm), hippie Emily Summerspring (Johnson), her sister Rose (Spaeny), manager Miles Miller (Pullman) and the enigmatic Billy Lee (Hemsworth). Over the course of one fateful night, everyone will have a last shot at redemption… before everything goes to hell.
"I wanted to work with my dream cast," says writer-director Drew Goddard, "so I knew I had to create a document that would attract them. I had moments where I would look at Jeff and Cynthia and Chris, Jon, Dakota, just sit and look at all these heavyweights and think, how did I get here? I don't understand how I got to be so lucky. It was never lost on me how special it was."
Bad Times at the El Royale, says Goddard, "was very much the definition of a passion project. I wrote it for myself. I'd been working on a lot of big-budget films (The Martian, World War Z), things that had a lot of pre-vis and complicated visual effects, and I was complaining to my wife one night. So I challenged myself to create a construct where you have several people in a confined space. How do you make that interesting? How do you turn the story even though most of it takes place in the same location? How do you change that location over the course of one night? All these questions make it hard but really fun to write. And also I just love hotels. I love how they are this place where people come together for a very brief period of time and have these encounters. I wanted to explore this idea that one night in one hotel can change everyone's life."
Rated R-16 by the MTRCB, "Bad Times at the El Royale" opens November 21 in cinemas from 20th Century Fox.