Ababa surges with solid 66
474 total views, 1 views today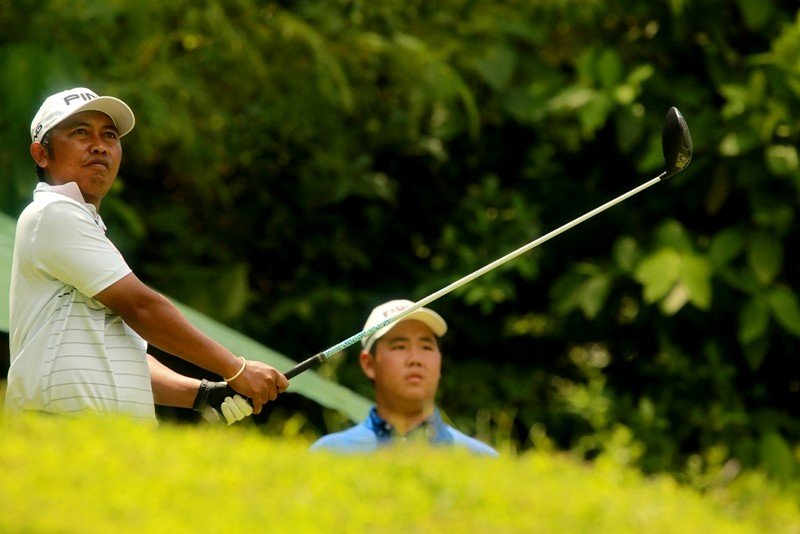 DANAO City, Cebu – Jhonnel Ababa, denied of a shared view of the top with a late mishap Wednesday, rebounded with a strong start yesterday and sustained his charge to card a bogey-free five-under 66 and grab a two-stroke lead over Korean Kim Joo Hyung halfway through the ICTSI Club Filipino de Cebu Invitational here yesterday.

In a duel at the tight, tricky par-71 Club Filipino layout, Ababa opted for precision over power and proved rock solid from tee-to-green with crisp iron play, producing five birdies, including three in the first four holes at the back that spiked his impressive pair of 33s that put him on top of the heap with a seven-under 135.
"Some fairways were tight in the opening nine so I played conservative. One mishit is costly," said Ababa due for a win with four top 10 finishes in the last six Philippine Golf Tour events in Mindanao and Visayas.
He actually snapped a six-month title spell with a three-stroke victory over Jobim Carlos in the PGT Asia Forest Hills leg last month but had been unsuccessful on the PGT with his third place effort at ICTSI Negros Challenge serving as his best in the season.
But with the momentum now on his side and the course seemingly all figured out, Ababa, who fumbled with a late bogey in the first round and missed joining Aussie Damien Jordan at the helm, hopes to finally nail one this week.
But a horde of aces are hot on his trail, led by the young but talented Kim, who moved in contention for a second crown with a 68 for a 137 while Jordan stayed in the hunt at 138 despite a 70.
James Ryan Lam matched Ababa's five-under card to tie reigning Phl Masters champion Jerson Balasabas, who shot a 70, at 139 while Dino Villanueva also fired a 66 for joint sixth at 140 with Michael Bibat, who matched par 71.
But some of the pre-tournament favorites failed to gain ground halfway through the P3.5 million event put up by ICTSI, including last week's Iloilo leg winner Carlos, who sputtered with a one-over 72 and slipped to joint 10th with Richard Sinfuego (69), Erwin Arcillas (71) and Rene Menor (71) at 142 behind joint ninth running Zanieboy Gialon (69) and Joenard Rates (70) at 141.
Tony Lascuña, the former three-time Order of Merit winner out to snap a long title spell, also dropped to 14th place at 143 with American Pete Vilairatana, who blew a fiery backside 32 start with a closing 41 for a 73.
Expecting a spirited challenge from his slew of pursuers, Ababa also stressed the need for his putting to click given the layout's unpredictable, sloping surface in a bid to stay in control all the way to the finish.
"A lot of greens have huge slopes that are very hard to read. I just kept it close to avoid making bogeys," said Ababa, who won back-to-back at PGT Asia at Eagle Ridge and Pradera Verde last January.
The 16-year-old Kim, who became the youngest winner on the tour by edging Carlos by one at Pueblo de Oro last month, is also putting premium on putting.
"I have to putt better in the next two rounds to have a realistic chance at the crown," said Kim, who rolled in putts from as far as 20 feet (No. 7) and 30 feet (No. 9) to move in contention for the top P650,000 purse in the 72-hole championship organized by Pilipinas Golf Tournaments, Inc.
Slowed down by drizzle early morning, Jordan barely survived a rollercoaster round and salvaged a 70 without using his driver but missed closing in on the new leader with flubbed birdies chances on three holes.
"I'm still okay with my round but I know I can do more on this course which I believe is in tip-top shape," said Jordan, a former soldier who served the Royal Australian Regiment for 10 years.