Basketball coach is Mang Inasal's 2018 Gawad Pilipinoy's new hero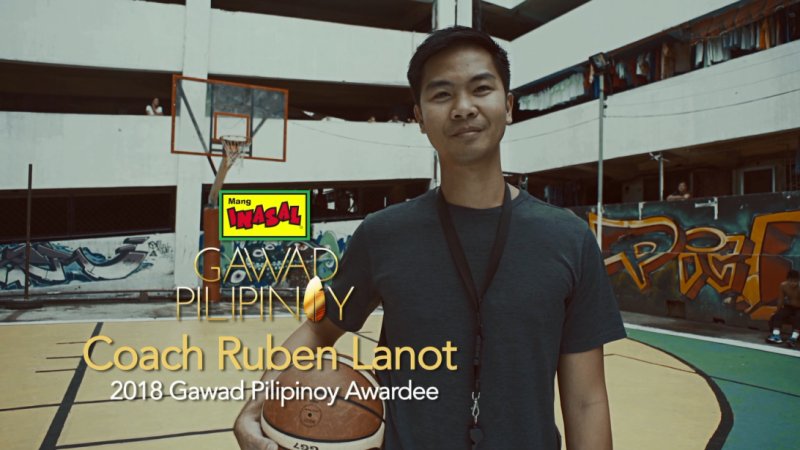 Basketball is the most-loved sport in the Philippines. For Filipinos, the ball game is more than just a pastime – it is training ground for discipline and sportsmanship, as well as for building friendships and camaraderie.

Making use of basketball as a means to inspire and teach life lessons to underprivileged youth, 35-year-old Ruben Lanot II, a tireless and dedicated basketball coach, was recently honored as the Mang Inasal's 2018 Gawad Pilipinoy awardee.
The leading Pinoy chicken inasal brand's very own recognition program for the country's modern-day heroes, Gawad Pilipinoy cites outstanding individuals who represent galing ng Pinoy by fulfilling a passion or vocation that uplifts the lives of the less fortunate.
"Mang Inasal Philippines wishes to promote positive Filipino values by recognizing individuals who exemplify them, like Coach Ruben, who dedicated his life to teaching the youth the importance of sportsmanship and realizing their dreams through basketball. He fulfills his passion for the game while inspiring kids to love the sport and make it as an instrument to improve their lives," said Mang Inasal Head Jojo P. Subido.
Coach Ruben started his love affair with the game at a very young age of six. He grew a deep liking for the sport while watching Philippine Basketball Association (PBA) games. He became a varsity player in his senior year at the University of Sto. Tomas, and after graduation, eventually found coaching basketball as his calling.
His decision to quit his day job as an office employee in favor of coaching was further strengthened when he was commissioned to join the Junior NBA program as coach, where he was able to meet and coach talented young players from different provinces. It was there that he thought that these raw talents, when given the right training, equipment, and the opportunity to play, would become even better players.
"I was able to relate to those aspiring young players since I myself didn't come from an affluent family. When I was just starting to play, I didn't have access to scientific basketball. That's why I want these kids to experience what I didn't get to enjoy before. Wala ako noong coach na masasabi kong naghulma sa akin nung bata ako about basketball (I didn't have a coach whom I can say molded me as a young kid trying to play basketball)," Coach Ruben said.
These experiences inspired him to start his "Hoop Dreams" advocacy program, which aims to help those youth who aspire of becoming basketball players by giving them the skills, the drills, the right values, and even the jerseys and the shoes they need for the game. For the program, Coach Ruben partners with different orphanages, associations and organizations, which are looking for ways to give indigent youth better opportunities.
Coach Ruben holds basketball training sessions at the Taguig Tenement, where the young players are coached on the game, but also on life lessons that will help them achieve their dreams. As far as Coach Ruben is concerned, he exerts the same amount of sacrifice and effort to train the kids from the tenement as well as those children attending the private school where Ruben also coaches.
"Through basketball, I am able to give the youth, especially the underprivileged ones, a new reason to dream and hope that they can be good at something. That's the best thing about pursuing my passion in basketball – I am able to fulfill the purpose behind that passion – that is, to be able to help others. Kaya't hanggang may batang gustong matuto, nandito lang si Coach Ruben para sa kanila (As long as there are kids who want to learn, Coach Ruben is just here for them)," he said.
With Coach Ruben's selfless use of his skills and passion to help the Pinoy youth through basketball, he is definitely a deserving recipient of the 2018 Gawad Pilipinoy award.