Tigresses roll into PVL semis, ward off Lady Blazers
418 total views, 1 views today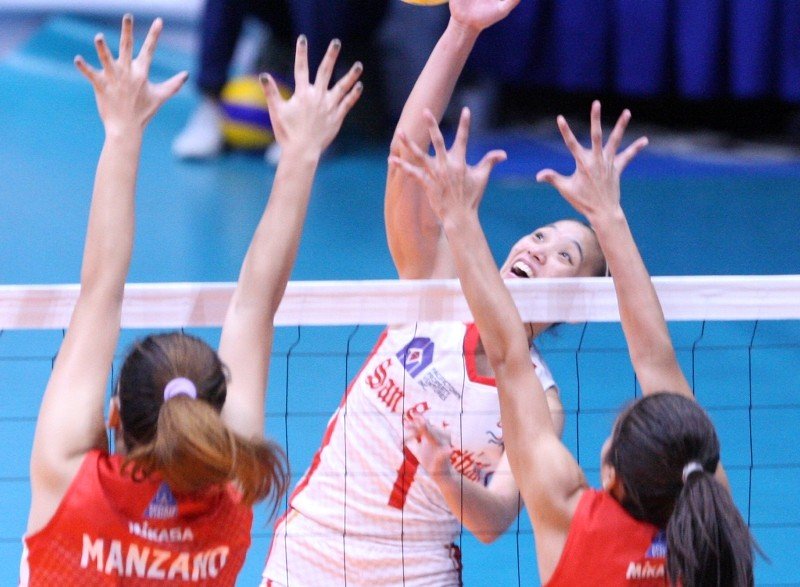 Games today (Sunday)
9 a.m. – La Salle vs San Beda (men's)
11 a.m. – FEU vs National U (men's)
2 p.m. – Perpetual Help vs FEU (women's)
4 p.m. – Adamson vs UP (women's)
University of Santo Tomas survived a pair of cliffhangers then imposed its will in the third to carve out a 26-24, 29-27, 25-17 victory over St. Benilde and clinch the first semifinals slot in the Premier Volleyball League Season 2 Collegiate Conference at the Filoil Flying V Center in San Juan yesterday.

The Tigresses squandered eight- and five-point leads in the first and second sets, respectively, but still pulled through on error-aided points by the Lady Blazers then pulled away midway in the third to annex their fifth straight victory and book the first ticket in the Final Four.
Milena Alessandrini presided over UST's attack with 13 points and finished with six digs and six excellent receptions, while rookie Ysabel Jimenez backed her up 13 attack points.
Eya Laure, another incoming rookie and the team's leading scorer heading to the match, bucked a shoulder injury and delivered 11 points while skipper Tin Francisco contributed nine markers for the streaking Tigresses.
"The team was like the weather today (yesterday) – gloomy but we're able to overcome that and the team came alive in the third set," said UST assistant coach Yani Fernandez.
Marites Pablo unleashed a 14-point game while Klarisa Abriam and Jan Daguil added 11 markers each for the Lady Blazers, who lost steam after two hard-fought sets and reeled to their third loss against a lone victory for a tie with the Perpetual Help Altas and the San Beda Lady Red Spikers
Earlier, Cesca Racraquin turned in an 18-hit performance in her return from injury, powering San Beda to a 25-14, 21-25, 25-20, 25-16 victory over San Sebastian and reviving the Lady Red Spikers' semifinal hopes in the mid-season conference of the league organized by Sports Vision.
Racraquin pumped in nine attack points and cashed in on the Lady Stags' sloppy reception to deliver nine aces as the Red Spikers recovered from a second set defeat to check a three-game slide while ousting their rivals from the semis race.