Korean eyes big comeback as Champion Tour unwraps
508 total views, 1 views today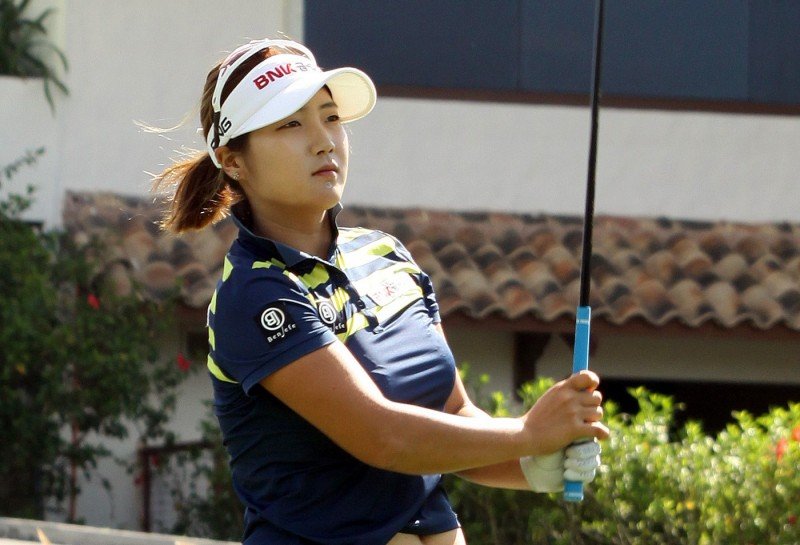 TAGAYTAY – South Korean Lee Jeong-Hwa sets out for a big return on the ICTSI Champion Tour she once dominated as she rejoins the title hunt in the $75,000 event, which gets going Wednesday at Tagaytay Midlands here.

The well-built Lee, also a former Philippine Ladies Open champion, bested a stellar international field and hacked out a pair of victories at Splendido and Manila Southwoods in the inaugural season of the ICTSI Champion Tour in 2016. She skipped the circuit last year but is back in the hunt, ready to reclaim her once revered spot in the Philippine leg of the Taiwan LPGA-sanctioned circuit.
She will be as much tested as the rest of the huge 104-player field right at the start of the 54-hole championship organized by Pilipinas Golf Tournaments, Inc. at the challenging up-and-down Midlands layout as the 23-year-old power hitter from Busan drew rising Taiwan amateur star Hou Yu-Chiang and Thai Punpaka Phuntumabamrung in one of the featured flights at 7:50 a.m. on No. 1.
Hou bested a slew of pros to finish joint second in the first of two Champion Tour events at Southwoods last week, a rain-shortened tournament which Thai Ploychompoo Wirairungreung ruled on a bogey-free 10-under 134 card.
Wirairungreung is also all primed up for another crack at the crown as she tries to match Lee's feat with the 23-year-old ace from Chiang Rai hoping to sustain her impressive game against Singapore's Koh Sock-Hwee and Yen Yu-Hsin, another amateur from Taiwan, in the 7:10 a.m. group, also on the first hole.
Meanwhile, Princess Superal, Pauline del Rosario and Cyna Rodriguez go all out to stop the foreign domination and deliver the first Champion Tour title to the host country with Superal riding the momentum of her superb second round at Southwoods that netted her a joint runner-up effort.
Del Rosario, the reigning Ladies Philippine Golf Tour Order of Merit winner, also hopes to put it all together this week after a mediocre joint 16th finish at Southwoods while Rodriguez, a former three-time LPGT OOM champion, is out to atone for her missed cut stint last week.
Superal hopes to get untracked in a flight behind Lee as she slugs it out with Thai Supakchaya Pattaranakrueang, with at LPGT Luisita last April, and Taiwanese amateur Hou Yu-Sang, who placed solo fifth at Southwoods, while Del Rosario kicks off her bid at the back at 7:40 a.m. in the company of Tsai Hsin-En of Taiwan and Thai Numa Gulyanamitta.
A horde of others are also expected to press their respective bids early, including Thai veteran and this year's two-leg LPGT winner Yupaporn Kawinpakorn and compatriots former LPGT winners Wannasiri Sirisampant and Onkanok Soisuwan, Mookharin Ladgratok, Saraporn Chamchoi and former Philippine Ladies Masters winners Saranporn Langkulgasettrin and Renuka Suksukont.
The Taiwanese are also tipped to contend early, including TLPGA No. 2 Hsin Lee and No. 3 Chen Min-Jou along with Lee Chia-Pei, Huang Ching and amateurs Chou Yi-Tsen and Chen Hsuan.
The locals have also vowed to crowd the fancied bets in the event, backed by Custom Clubmakers, BDO, Meralco, Sharp, KZGm PLDT, Champion, Summit Mineral Water and K&G Golf, including Chihiro Ikeda and Marvi Monsalve along with amateur Lois Kaye Go, Sofia Chabon, Mikha Fortuna and comebacking Sam Martirez.