Thai edges closer to crown with 69
386 total views, 1 views today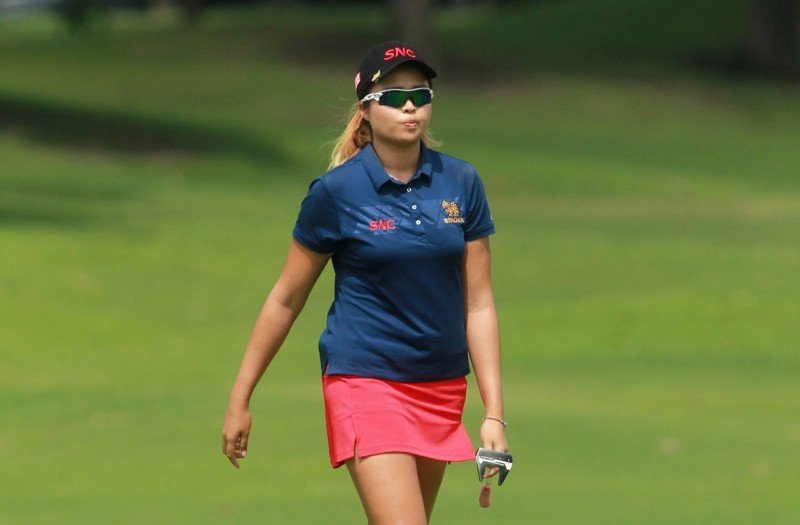 CARMONA, Cavite – Thai Ploychompoo Wirairungreung slowed down with a 69 as she struggled with her putting form but kept her bogey-free run at the Legends course with a superb wedge game as she pulled away by four over Princess Superal and two others after two rounds of the ICTSI Champion Tour at the Manila Southwoods here yesterday.

From a lead-grabbing seven-birdie binge in her first game at the bunker-laden layout, the power-hitting Wirairungreung settled for three this time but spiked her 34-35 card with a terrific short game that set up pars in five times that she went out of regulation, enabling her to go bogey-free in 36 holes.
With a 10-under 134 aggregate, the 23-year-old shotmaker from Chiang Rai zeroed in on the coveted crown, this being a Taiwan LPGA Tour-sanctioned event, as she padded her overnight two-stroke lead to four heading to the final 18 holes of the first of two Champion Tour events put up by ICTSI.
It is also Wirairungreung's second crack at a Ladies Philippine Golf Tour diadem after losing by two to local amateur Yuka Saso in the circuit's kickoff leg at Ayala Greenfield last January.
But with a huge lead and a peerless form – and unless her nearest pursuers come up with spectacular rounds in the last 18 holes, the tall Thai could well be in for a trouble-free ride to the throne.
"I can't get a good read of the breaks on the greens today (yesterday)," said Wirairungreung, who missed a number of birdie chances inside 10 feet.
Superal also missed seizing solo second with a late bogey on No. 7, the backside of her game, where her par putt from six feet lipped out. But her 68 put her alongside amateur Hou Yu-Chiang of Taiwan, who scrambled for a 71, and Thai Supamas Sangchan, who rallied with an eagle-aided 68, at 138.
"That miss (on No. 7) was huge. I would've been down by only three," said Superal, adding she would need her A-game off the mound in the final round to get a chance for the crown.
"Wirairungreung hits so long so I need to counter with precise drives," said the Filipina ace.
Another Taiwanese amateur Hou Yu-Sang turned in a 70 for solo fifth at 139 while Thai Saranporn Langkulgasettrin, the inaugural winner of the Philippine Ladies Masters in 2016, bounced back from a 72 with a 68 to gain solo sixth at 140.
Chihiro Ikeda, who struggled with a 75 in the opener of the $75,000 event organized by Pilipinas Golf Tournaments, Inc. Wednesday, shot the day's best 66 but the LPGT Eagle Ridge winner last February's bogey-free 33-33 round could only push her to solo seventh at 141, still seven strokes off the pace.
Chonlada Chayanun and last month's LPGT Mt. Malarayat champion Onkanok Soisuwan, pooled identical 142s after a 70 and 71, respectively, while Aunchisa Utama matched par 72 to join her fellow Thai bets at 142.
Taiwanese Chen Min-Jou, the No. 3 player in the Taiwan LPGA, shot a 71 to join two-leg LPGT winner Yupaporn Kawinpakorn, who fired a 70, and Singapore's Koh Sock Hwee, who carded a 72, at 143.
Pauline del Rosario, the reigning LPGT Order of Merit winner, rebounded from a 74 with a 70 but stood too far behind at 144 to pose a threat in the company of amateur Harmie Constantino, who shot a 71, and Hsin Lee, who fumbled with a 74, and Chen Min-Jou, who matched par, the Nos. 2 and 3 in the TLPGA, at 14th place in the event backed by Custom Clubmakers, BDO, Meralco, Sharp, KZGm PLDT, Champion, Summit Mineral Water and K&G Golf.