Filipino makes history, conquers FWD North Pole Marathon
479 total views, 1 views today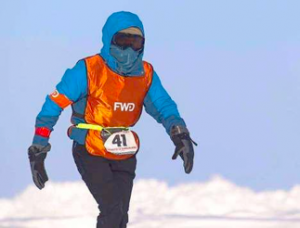 Luisito "Louie" Sangalang proved that no adversity can break the Filipino spirit, surviving cancer as a young adult, he represented FWD Life Philippines and succeeded in conquering the gruelling 42-kilometer FWD North Pole Marathon held on April 16, 2018. Running amid a ruggedly icy terrain and freezing temperature of minus 32 degrees, Sangalang finished the race in 11 hours and four minutes.

The FWD North Pole Marathon is an initiative of the new Pan-Asian insurance company with operations in eight (8) Asian countries. With the ambition to change the way people feel about insurance, FWD believes that life should be enjoyed to the fullest. And that is sometimes in not the most ordinary ways.
Louie Sangalang is a multi-sport athlete, cancer survivor, and a healthy lifestyle and nutrition advocate. He joined ten (10) other FWD-sponsored runners from Hong Kong, Indonesia, Singapore, Vietnam, and Japan, who are collectively dubbed #FWDTeamAsia.