ONE Championship Global Citizen Ambassadors reach out to Filipino youth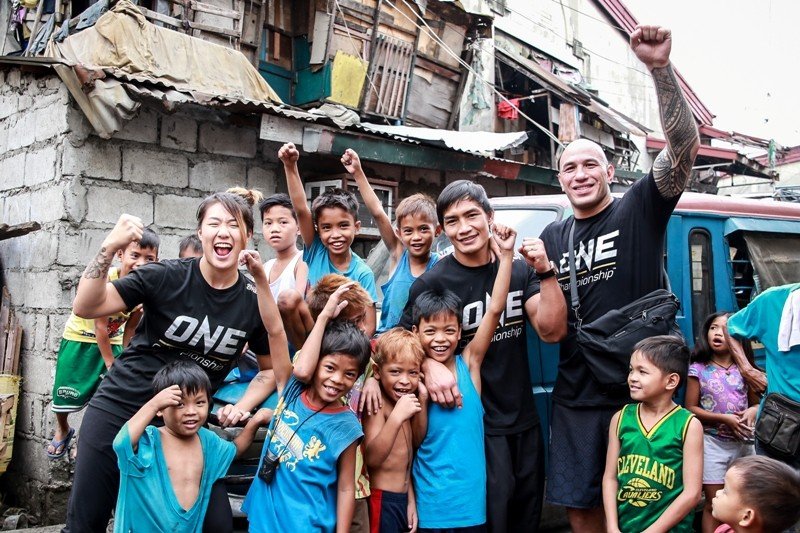 ONE Championship (ONE) recently held an athlete outreach activity that saw ONE Championship athletes visit youth living in metropolitan Manila. Global Citizen Athlete Ambassadors Angela Lee, Brandon Vera, and Eduard Folayang, in conjunction with Young Focus, spent time with children from Smokey Mountain Area, while spreading a message of hope and the importance of access to education.

Young Focus is a local NGO in the Philippines that provides underprivileged youth in the Tondo, or "Smokey Mountain" Area of Manila the chance to develop themselves intellectually, emotionally, psychologically, and spiritually. Through education, Young Focus addresses poverty directly by giving the next generation the best possible opportunities in life.
Athletes toured the area, met community members and visited Young Focus centers which cater to children from infancy, preschool, all the way up to the tertiary educational level. Young Focus founders Paul and Ann Wijgerden have over 1,500 children from the area participating in the program. Athletes not only helped children of all ages in their various classes, from English to Mathematics, to Music and Dance, but also inspired them by sharing their own personal stories and reinforcing the importance of education. The day finished with a martial arts demonstration.
ONE Championship also invited 100 Young Focus students and staff to attend the ONE: GLOBAL SUPERHEROES event on Friday night, 26 January at the Mall of Asia Arena.
As part of the partnership with Global Citizen to encourage fans to become Global Citizens and take action, ONE athletes will continue to play their part in driving this social movement as well as supporting local initiatives that provide access to education to tackle extreme poverty.
Wei Soo, Co-Founder of Global Citizen, stated: "Young Focus and its students are a great example of what we can achieve when a community is able to prioritize education for all. It was exciting to see their work firsthand today, and hear directly from students whose lives have been changed by the power of education. At Global Citizen, we're thrilled to team up with ONE Championship and its fans throughout Asia, and encourage world leaders to invest in education and give millions of people around the world the tools they need for a better future."
Angela Lee, Global Citizen Athlete Ambassador, stated: "Today was an experience unlike any other. I am truly humbled and honored to have walked these streets, laughed with these people and shared so many smiles with everyone on Smokey Mountain. For me and my fellow Global Citizen Ambassadors, Brandon and Eduard, this is truly the most rewarding thing. We love giving back to our communities! Thank you ONE Championship, Global Citizen and Young Focus for having us here today. We can't wait to be back!"
Brandon Vera, Global Citizen Athlete Ambassador, stated: "Hanging out with the children was an awesome privilege. It made me appreciate everything a lot more and has motivated me to give back even more when I can. If I am able to help these kids it means the world to me. I have been fortunate enough to be raised in an environment where I never had to face what these kids have to deal with on a daily basis. If only to inspire them to work hard and study hard so they can chase their dreams, then I'm all for it. Hope is important because even just a little bit of it goes a long way. Thank you to ONE Championship and Global Citizen for allowing us this opportunity."
Eduard Folayang, Global Citizen Athlete Ambassador, stated: "It was such an amazing experience, of course. You really feel for the hardship my countrymen are experiencing now, especially the youth. As a ONE Championship athlete, it is my honor to be able to give back to the Filipino people. I'm sure the entire world would also love to be a part of this movement, so I encourage everyone to check out Global Citizen and how each of us can help in our own little ways."
ONE Championship recently announced a partnership with Global Citizen, an international advocacy organization with the goal of ending extreme poverty across the world by 2030. The partnership will harness the power of ONE's platform to engage millions of martial arts fans around the world to support initiatives and find solutions to the issues associated with extreme poverty. Global Citizen and ONE will collaborate across 24 live ONE events scheduled in 2018, and various outreach activations throughout Asia. Fans will have the opportunity to take action and engage with specific policy areas including, education, food security, hunger and nutrition, global health, and gender equality and empowerment.
The first action ONE fans can take will be centred on global education. Fans will be able to call on donor countries such as Australia, New Zealand, South Korea, Japan, Singapore, Malaysia, and India, to attend the Global Partnership for Education's (GPE) replenishment conference in Dakar, Senegal on 2 February 2018, and make a commitment to GPE to support better education for all. Currently, 264 million children around the world are missing out on an education. Over half are girls, and over 75 million have had their schooling disrupted by conflict or natural disasters. At the replenishment conference, the GPE will raise much needed funds that will allow it to continue to support quality, inclusive education to hundreds of millions of children around the world.
Headquartered in New York with offices in Canada, Australia, Germany, and the United Kingdom, Global Citizen was founded in 2012 with the goal of building the largest platform where people can learn about issues, take action on what matters most, and join a global movement working to end extreme poverty by 2030. Since then, millions of Global Citizens around the world have taken over ten million actions, which includes millions of emails, tweets, petition signatures, and phone calls targeting world leaders to end extreme poverty by 2030. To date, the actions by Global Citizen's global community, along with its high-level advocacy efforts and various partners, have resulted in 130 commitments and policy announcements from leaders, including financial aid valued at over US $35-billion, that is set to affect the lives of over 1.3 billion people.
ONE Championship, Asia's largest global sports media property, is a celebration of Asia's greatest cultural treasure, martial arts. The promotion engages millions of people across Asia by building local martial arts superheroes, telling their inspirational stories of perseverance and triumph through martial arts, which has been home in Asia for the past 5,000 years.