Fortinet PH bags awards in Global Awards for Marketing & Business Excellence and Outstanding Executives 2017
470 total views, 1 views today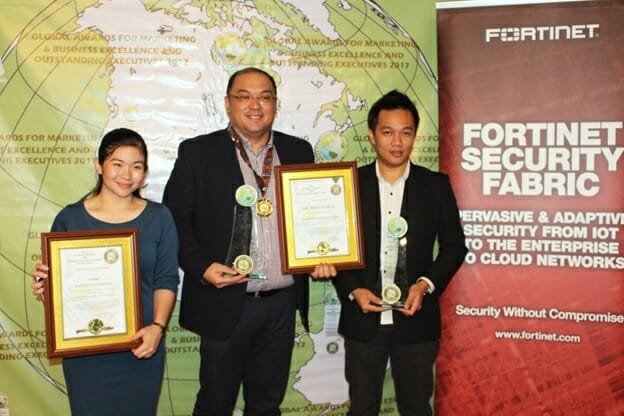 Fortinet Philippines, a global leader in broad, integrated and automated cybersecurity solutions, recently bagged two recognitions during the Global Awards for Marketing & Business Excellence and Outstanding Executives 2017 held at the Sofitel Philippine Plaza in Pasay City.

Fortinet was conferred with Global Award's Seal of Excellence as it received an international award for Best IT Network Security Products Provider. Jeff Castillo, regional director for Fortinet Philippines, was also named as one of the outstanding executives for business management.
These awards are given by the Global Awards Council to recognize companies, brands, products, and services that exemplify outstanding performance capability and innovative business and marketing practice. It also seeks to give pride to outstanding individuals, who excel in their respective field of business.
"We are very honored for the recognition we received from the Global Awards this year. These citations serve as an inspiration for the Fortinet Team as we continue to aspire to empower our customers with intelligent and seamless protection across the ever-changing attack surface," said Castillo.
Through the years, Fortinet demonstrated excellence in the field of cybersecurity, especially with its vision to deliver a broad, truly integrated, high-performance security across the expanding IT infrastructure.
With more than 17 years of existence, Fortinet has also built an efficient security strategy to address the unique challenges brought about by disruptive digital technologies, such as the Internet of Things (IoT), the Bring Your Own Device (BYOD) revolution and the cloud.
To date, Fortinet has already surpassed its competitors with its more than three million deployed devices, making it the number one global network appliance vendor. More than 330,000 customers worldwide, including the majority of the Global Fortune 100, rely on Fortinet for protection.
Fortinet is also the industry's most independently tested and validated security vendor. With its Fortinet FortiGuard Labs global research team, which consist of over 200 threat researchers. It monitors 50,000 threat events and resists more than 470,000 network intrusions every minute.