Environment watchdog on Trudeau's promise to address garbage issue: 'We're watching you'
501 total views, 1 views today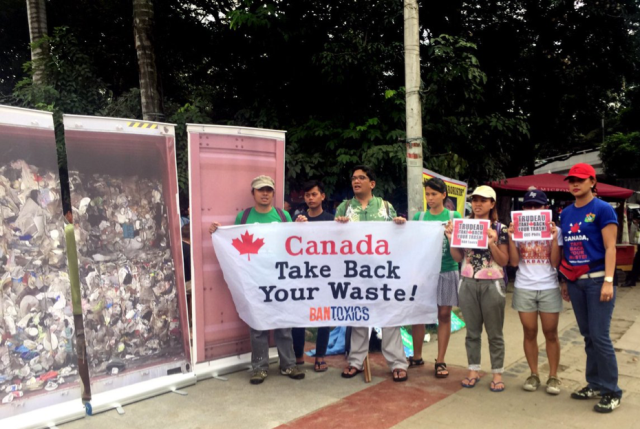 Environmental justice group BAN Toxics today welcomed Prime Minister Justin Trudeau's commitment to find a solution to the Canadian waste that has been sent to the Philippines in 2013.

"We appreciate Prime Minister Trudeau's pronouncement that he will address the garbage issue. It's about time that he brings it back home with him to Canada," Anna Kapunan, BAN Toxics' Campaign and Advocacy Specialist said.
"Prime Minister Trudeau, we are watching you. We will set a meeting immediately with the Canadian embassy so that you do good on your promise. As we have always said, Filipino lives matter too. We don't want our countrymen to suffer from the health and environmental impacts of your trash," Kapunan added.
Earlier today, Trudeau said that he has committed to President Rodrigo Duterte that his government will work on finding a solution to the garbage issue. In mid-2013, Canada sent 103 container vans with 1,300-ton of trash declared as recyclable materials. The vans contained household wastes, diapers, among others.
Today is the first time that Trudeau committed to take action on the Canadian waste that has been rotting in the Port of Manila for years.
"I know it has been a long-standing irritant and I committed to him (Duterte), and I'm happy to commit to all of you now that Canada is very much engaged in finding a solution on that," Trudeau said in a press conference at the World Trade Center in Manila.
Trudeau's pronouncement will hopefully breach the barrier posed by Canadian law that prohibits the trash from being repatriated back to their country.
On Tuesday morning, BAN Toxics displayed an image of one container van at Liwasang Bonifacio, Ermita, Manila while Trudeau and other heads of states were attending the 31st Association of Southeast Asian Nations (ASEAN) Summit and Related Summits.
A jeepney emblazoned with a "Canada, take back your waste" call was also positioned in Liwasang Bonifacio to urge Trudeau to take immediate action. The jeepney went around Taft Avenue with a speaker playing Duterte's campaign promise to make Canada accountable for its waste. Groups Agham, Kalikasan and Center for Environment Concerns also joined the call of BAN Toxics on Trudeau.
"Bakit gagawing basura ang bayan ko? Tatawagan kita dun sa kwarto, ipapakain ko yan sayong basura mo (Why are you making my country your dumping ground? I will call you in a room and force you to eat your trash)," Duterte was quoted during the campaign, referring to Trudeau on the issue of Canada's waste.
It is the position of BAN Toxics that the dumping of Canadian trash in the Philippines is a violation of the Basel Convention, a global agreement against toxic waste dumping. Canada and the Philippines are signatories to the Basel Convention, and are legally bound to implement the provisions of the treaty.