Local musicians to share honest stories while busking at Komura; book fair
274 total views, 1 views today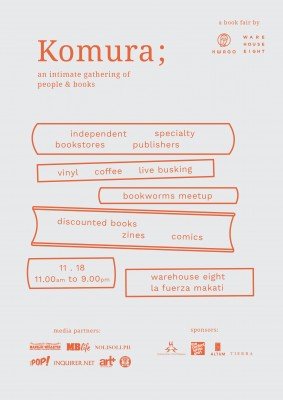 A collaboration between Warehouse Eight and Kwago Bookstore, Komura; book fair carved a storytelling platform for five local musicians to echo unheard chapters of their melodies.

Featuring Lions and Acrobats, Asch, Alyana Lea Carmela, Niki Colet, and Hoochie Coochie Mikkie, the program starts at 1:30PM on November 18, 2017.
Dubbed as "Echoes at the Warehouse," the Komura; book fair's busking session aims to provide a creative space for musicians to just flow and amplify their unedited thoughts and emotions–raw and imperfect.
"Echoes is an expectation-free platform where artists don't have to 'perform' and do their usual acts. They can just be there to share a piece of them in whatever format they feel right at the moment," Komura; co-founder Kayla Dionisio said.
"It's very much like in NPR Tiny Desk Concerts where Chance The Rapper once 'performed' and just read a poem."
With the goal of showcasing creative ways to experience literature, Komura; is laden with curious details and activities. There will be a reading lounge in the fair where people can drink coffee, read a book or play some vinyl records from Bear's Den Records, as well as tiny nooks and corners where introverts can just read and enjoy the atmosphere.
Kwago is hosting the first Bookworms Meetup in Manila where book lovers can geek out and trade books they love.
Multi-awarded writer Joachim Antonio will launch his new storytelling project that breaks the "fourth wall" called EXESANONYMOUS, while the Spark Project will hold a crowdfunding workshop for writers and illustrators to publish on their own.
"We designed the program to make people see that stories are everywhere, that everyone is telling story one way or another. This is why Echoes is a very important part of the fair because music is everyone's favorite way to share and receive a story," Komura; co-founder Czyka Tumaliuan revealed.
An intimate gathering of independent and specialty bookstores, storytellers, and art shops around the Philippines, Komura; book fair's major institutional sponsor is Cultural Center of the Philippines, while The Perfect White Shirt, Altum, Tierra Plants, and interior designer Jia Cabansag are our major event sponsors and supporters who helped turn our dream book fair into reality.
Event runs from 11AM to 9PM on November 18, 2017 at Warehouse Eight, La Fuerza compound, Makati. Door charge is PHP 200. Tickets come with a short story from CCP.