Madonna 'ignored' symptoms of 'serious bacterial infection' before hospitalization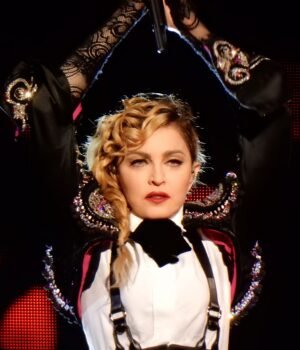 Madonna is said to have been pushing herself to the limit so much during rehearsals for her now-postponed 'Celebration Tour' she reportedly "ignored" symptoms of her serious bacterial infection.
The Queen of Pop, 64, was discharged from intensive care at a New York hospital on 29 June four days after she collapsed with the illness and is recovering at her home in the city, and insiders have now said she tried to push herself "beyond the limit" before she fell sick as she rehearsed for her now-postponed 'Celebration Tour'.
One music source told People: "She ignored some symptoms of illness for quite a while because she thought they would go away.
"But she didn't want to take time away from rehearsals."
They added: "She was rundown and not feeling 100 percent for a while in anticipation of her tour. She is relentless in her quest to be the best, to wow her fans and to do what others before her have not done."
A second music source said: "Madonna has been very busy for a long time and not taking care of herself. She just continues to push herself beyond the limit."
Sources previously said mum-of-six Madonna became seriously ill on 24 June and said she was found "collapsed" before she was rushed to an intensive care unit.
Insiders told Page Six she became totally "unresponsive" at one point and had to be intubated for at least one night at the hospital.
Sources also told the outlet Madonna had been "strenuously rehearsing" for weeks and putting in "12-hour days" in preparation.
TMZ has reported she had been ill for some time and ignored symptoms including a "low-level fever" for up to a month.
Madonna's long-time manager Guy Oseary, 50, revealed Madonna's illness and said her greatest hits tour was being put on hold.
He revealed on Instagram: "On Saturday June 24, Madonna developed a serious bacterial infection which led to a several day stay in the ICU.
"Her health is improving, however, she is still under medical care. A full recovery is expected.
"At this time we will need to pause all commitments, which includes the tour.
"We will share more details with you as soon as we have them, including a new start date for the tour and for rescheduled shows."