Cardi B To Help 'Tiger King' Star Joe Exotic Get Out of Prison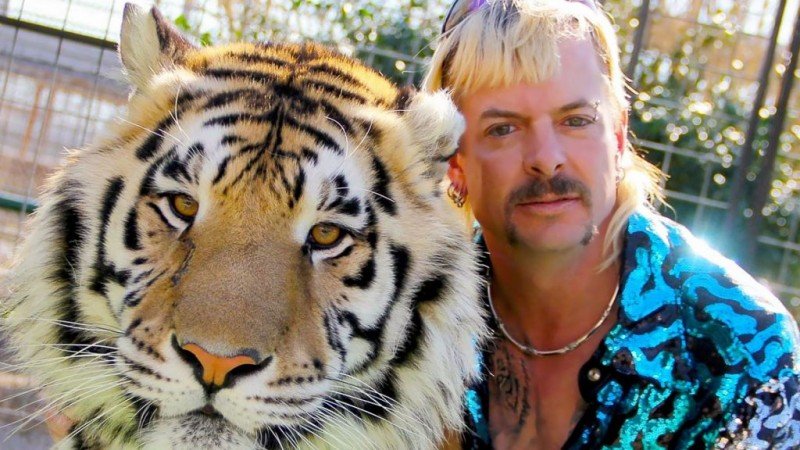 Rapper Cardi B doesn't think that Joe Exotic, the focus of Netflix's documentary series Tiger King, should be in prison. Like so many viewers currently cooped at home for quarantine, Cardi B has been obsessed with watching the Netflix docudrama.
Over the last few days, since Tiger King came out, Cardi has tweeted her support for the private zoo owner. Joe Exotic, who owns a flourishing exotic zoo in Oklahoma is currently serving time in prison for 22 years for a murder-for-hire scheme that went wrong and several animal abuse charges.
Cardi, however, thinks that Joe was framed for allegedly plotting to kill animal rights activist and Joe's business competitor, Carole Baskin. Joe also had had some very shady business partners who may have wanted him in trouble.
As a result, Cardi said she'll start a GoFundMe page to help free Joe from prison.
Bout to start a gofundme account for Joe .He shall be free.

— iamcardib (@iamcardib) March 28, 2020
Netflix's Tiger King: Murder, Mayhem and Madness debuted on March 20. Joe is quite a character who describes himself as a gun-toting, gay polygamist.
According to Variety, Tiger King is currently the most popular show on Rotten Tomatoes with 97 percent critics score and 96 percent audience score. Documentary filmmakers Eric Goode and Rebecca Chaiklin explore the world of big cat owners for five years.
Per Variety's review of Tiger King:
"Every episode — whether about Joe Exotic's political aspirations or the suspicions that Baskin fed a husband to her tigers (really!) — has more than enough material to fuel its own entire miniseries. By and large, Tiger King depends on Joe Exotic's own entertaining philosophy: come for the big animals, stay for the personalities wrangling them. For those who love Netflix's particular flavor of true crime and docuseries, which depend heavily on wild characters and addictive pacing in order to keep a couchbound audience entertained, Tiger King will undoubtedly scratch a particular itch.