PSL: PLDT bounces back against Marinerang Pilipinas
Games on Tuesday: (Muntinlupa Sports Center)
4:15 p.m. — Petron vs Marinerang Pilipina
7:00 p.m. — Cignal vs PLDT
PLDT Home Fibr pounced on winless Marinerang Pilipina in straight sets, 25-16, 25-23, 25-20, to regain its winning ways in the Philippine Superliga All-Filipino Conference at the FilOil Flying V Centre in San Juan City.

Coming off a frustrating three-set loss to defending champion Petron last week, Grethcel Soltones sparked the Power Hitters to bounce back and send the Lady Skippers to their 12th straight loss after a 90-minute encounter.
Soltones nailed 10 kills for 11 points leading PLDT and also put up a tremendous floor defense with 19 digs and 13 excellent receptions in this battle that prestigious women's club league bankrolled by Team Rebel Sports, SOGO, Eurotel, PCSO, Cocolife, UCPB Gen, Mueller, Senoh, Asics, Bizooku and One Sport.
Aiko Urdas was also instrumental with nine markers laced with 16 digs while Sasa Devanadera had nine markers and setter Jasmine Nabor dished out 14 excellent sets and hit five markers.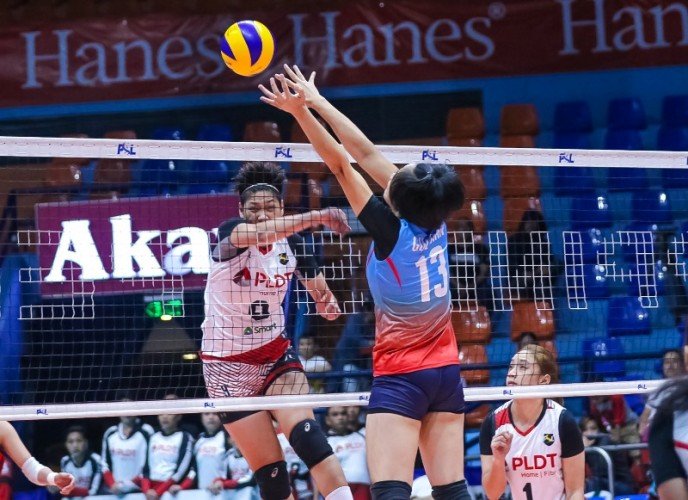 PLDT tightened its grip at the No.6 spot with an improved 4-7 win-loss record, but head coach Roger Gorayeb already accepted that they would be facing the No.3 team in the knockout quarterfinals.
"At least we got a win today. We're just trying to get confidence from our remaining games," said Gorayeb, who has three last games against Cignal, Generika-Ayala and F2 Logistics.
"We only have a slim chance to rise from number six so we just have to maintain it and get ready for the next round."
The Lady Skippers put up a gallant stand in the second set building a 14-11 lead before the Power Hitters stormed back. A neck-and-neck duel figured down the stretch of the second frame before Jerrili Malabanan delivered the finishing touches for the two-set lead.
Nobody scored in double figures for Marinerang Pilipina with veterans Ivy Remulla and Nica Guliman leading the way with nine and eight points, respectively, only for their team to reel at No.8 with a 0-12 card.
Outside hitter Chiara Permentilla missed the match due to a left knee injury she sustained last week against Cignal.