Philam Life 7s Football League Season 3 Quarter-finals: Super Eagles, Ghana F.C., Delimondo-Laro F.C., Bohemian S.C. Advance
There were no upsets or spoilers as all top-seeded teams will move on to the Final Four of the Philam Life 7s Football League Season 3 men's division, after all, picking up key wins over their counterparts in the quarter-finals of the on-going Season 3 Philam Life 7s Football League at the McKinley Hill Stadium.

In what was the highlight of the day, Delimondo-Laro F.C. pulled off a rousing comeback against Real Amigos after being held scoreless in the first half for a 2-1 win. They came out much more aggressive in the second half, and multiple saves from keeper Cedric Hodreal and a conversion from Gui Hasegawa late sealed the deal for DLFC.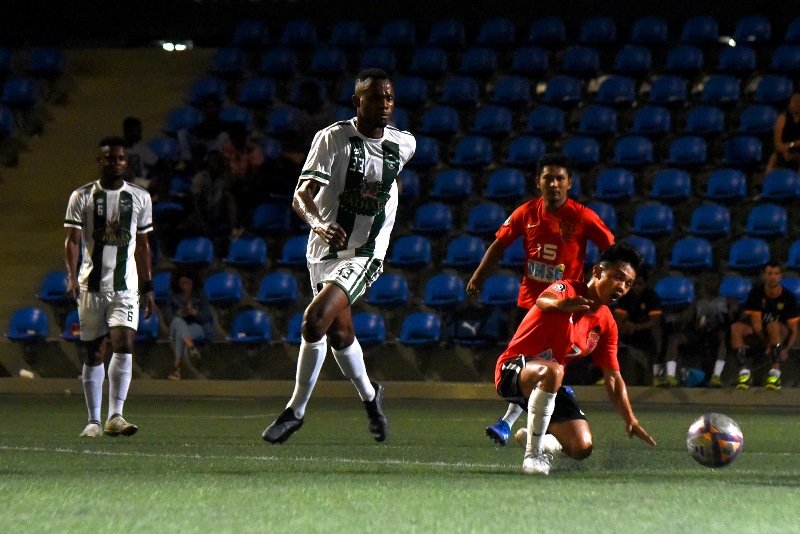 Hasegawa wasn't even slated to play but decided at the last minute to suit up for Delimondo, and the sacrifice paid off as he converted on a rocket of an attempt in the second half.
Later, the defending two-time champions Super Eagles continued their rampage by beating Tondo F.C., 4-1. After scoring two quick goals in the first half, the Super Eagles didn't take their foot off the gas pedal by adding two more en route to the victory.
With huge targets on their backs, the defending champions are determined to add another title to their trophy case against all challengers.
"The semifinals will not be easy, and we know that they'll prepare for us. But at the end of the day, we have one goal – it's one game to the finals. Our mission is to get to the finals and win it all again," said head coach Danny Kross.
With Delimondo slated to go up against the Super Eagles in the semis, Hodreal and the rest of the crew would continue to rely on their collective experience and resiliency as they look to upset the defending champions.
"In the first half, we realized that towards the end hindi nila nadadala 'yung bola sa side naming, lagi silang naglo-long ball. Anton (Del Rosario) suggested that why don't we go a bit higher, so when they throw ball, there's someone there to meet the defender. It worked for us, we worked hard, and we didn't give up, which is why we won," said Hodreal.
"You could see the quality in our team, a lot of them played for the Azkals and played in the national league. Since a lot of our players before won championships internationally and here in the Philippines, why not?" he added.
On the other side of the bracket, Season 2 runners-up Ghana F.C. churned out a stellar showing against Futbol Funatics, 4-0. After scoring only once in the first half, Ghana F.C. turned up the pace on offense behind Junior Sam's all-around performance, and they added three more goals in sealing the victory.
Their slow first half was an awakening of sorts for Ghana F.C. after Futbol Funatics pulled out all the stops on defense. Despite the win, Coach Ayi Bimbo and the rest of his wards are hopeful that they could sustain their momentum moving forward, especially after coming up short in the finals last season.
"First half, when it was 0-0, it was really, really scary because they were attacking, and we were holding back. So, I told the boys that we are better than this and we have to play our game," said Bimbo.
"There was some sort of awareness between every department. We knew how important this game is for us, so it was a must-win situation. Of course, it is going to be difficult, but we have the capabilities and the potential to go as far as possible in the tournament and possibly win this time," added Sam.
Rounding out the quarter-finals was Bohemian Sporting Club over H&J All-Stars, 2-1. Bohemian S.C. scored the first goal in the first half, but the H&J All-Stars punched in one of their own to tie it up late in the second half.
Jason De Jong came up big for Bohemian S.C. as he scored the marginal goal via penalty, capping off his timely comeback. Ghana F.C. And Bohemian will square off in the semi-finals.
Coach Mikee Carrion bared he and the rest of the team will maintain the same mental approach for the next game and that they'll do everything to make life harder for Ghana F.C. Jason De Jong added he is more than proud on how the team is doing on its maiden season so far in the league.
"It's going to be the same approach every game, we're not going to change anything. We're definitely going to make a push to the finals and we're going to give teams a headache when we'll face them. It's going to be an exciting match for sure in the semis," said Carrion.
"I'm very happy and proud of the team that in the first season we already made an impact in this league. We're very happy for the win and we're going to prepare well against Ghana F.C.," added De Jong.
The third installment of the 7s Youth League within the season offered a different look this time, featuring U5, U7, and U9 action. And it was Sugod Malaya B and Kaya B who notched impressive wins in their respective age brackets on opening day.
Kaya B posted wins against Kaya A (4-0), Sugod A (3-0), and G8 (3-2) in the U5 division. Sugod B, on the other hand, was left unscathed after winning against Sugod A, G8, and Mondo for the U7 division.
In the U9 division, Bannister and Bohemian ended the day with a win and a draw, while Sugod B posted clean sheets against Sugod A, G8, and Marista,
Here are the complete results for Match Day 12 for the men's and youth divisions:
7s Youth League
U5
Kaya B 4, Kaya A 0
G8 2, Mondo 1
Sugod B 0, Kaya A 0
Kaya A 4, G8 1
Kaya A 3, Mondo 1
Kaya B 4, Sugod A 0
Sugod B 3, Sugod A 2
Kaya B 3, G8 2
U7
G8 3, Mondo 2
Sugod B 2, Sugod A 0
Sugod B 4, G8 1
Sugod B 2, Mondo 0
Sugod B 3, G8 0
U9
Sugod B 2, G8 0
Bannister 2, Marista 0
Bohemian 2, G8 0
Marista 1, San Lo F.C. 0
Bannister 1, Sugod A 1
Bohemian 0, Mondo 0
Sugod A 0, Bohemian 0
San Lo F.C. 1, Mondo 0
Sugod B 1, Sugod A 0
Bannister 1, Mondo 0
San Lo F.C. 2, G8 1
Sugod B 3, Marista 0
Philam Life 7s Football League Men
Delimondo-Laro 2, Real Amigos 1
Ghana F.C. 4, Futbol Funatics 0
Super Eagles 4, Tondo F.C. 1
Bohemian S.C. 2, H&J All-Stars 1