Metro League: Yeo powers Manila past Pateros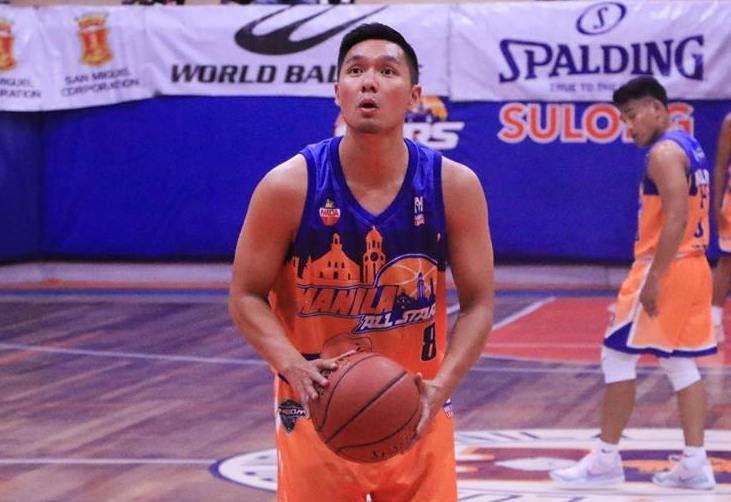 Games Saturday, Oct. 6 '18 (Caloocan Sports Complex)
10:00 a.m. Caloocan vs. Manila
12 noon Parañaque vs. San Juan
1:30 p.m. Pateros vs. Las Piñas
3:00 p.m. Valenzuela vs. Taguig
MANILA drew inspiration from former PBA star Joseph Yeo to roll back Pateros, 86-83, and gain a share of the North Division lead with Quezon City which beat San Juan 84-82 last Thursday in the Metro League Open basketball tournament at the San Andres Sports Complex.

The All-Stars eye a third straight win against host Caloocan in the 10 a.m. first game of a quadruple header Saturday at the Caloocan Sports Complex while Valenzuela also looking to go up 2-0 against Taguig in the fourth and last game at 3 p.m.
In other Saturday games of this tourney which has "mobile app ng bayan" Barangay 143 as presentor, Spalding as the official ball, Team Rebel Sports as official outfitter and Synergy 88, San Miguel Corp., World Balance, Frabelle Foods, Summit Mineral Water, Alco Plus, Gerry's Grill, Excellent Noodles, glitter.ph, SM Supermalls and Nature's Spring as major sponsors, Parañaque goes for second straight win against hardluck San Juan at 12 noon p.m. while Pateros tries to bounce back against Las Piñas at 1:30 p.m.
Yeo, the No. 3 pick overall by the Coca-Cola Tigers in the 2006 PBA Draft, flirted with a triple double to the tune of 15 points, 11 rebounds and six assists in 28 minutes for the All Stars who notched their second straight win after their 90-82 decision over Marikina on opening day last Sept. 30.
Yeo teamed-up with Jay Mark Mallari, Kenneth Acibar and Mark Christian Yu for the hosts, which took control early in the game before holding off Pateros' last-ditch rally in the third and last game of a three-game bill organized by the Metro Manila Development Authority (MMDA) and supported by the Philippine Basketball Association (PBA).
Mallari topsored for Manila with 17 points, including two free throws with six seconds left that sealed the win.
Jio Lopez of Pateros hit two free throws of his own to make the score close at the end.
Earlier in the first and second game, Quezon City leaned on Cyrus Tabi's buzzer-beating drive and lay-up with 0.7 of second left to edge San Juan, 84-82, for the same 2-0 record as Manila while Parañaque rallied from eight points down to beat Las Piñas, 101-96, to improve to a 1-1 slate.
Tabi's heroics came after Rizaldy Corpuz nailed a three-point shot from the left corner to tie the score at 82-all with still nine seconds remaning.
Last year's Most Valuable Player in the 24-and-under tournament while playing for Mandaluyong, Tabi finished with a game-high 26 points on a 10-of-16 field goal shooting, Kojak Melegrito added 13 points, Roque Estoce, Jr. contributed 12 points and 13 rebounds and Sandy Senal had 10 points and 11 rebounds for the Stars, who debuted with a 72-53 win over Las Piñas last Tuesday in Taguig.
Joshua Saret led San Juan with 19 points and nine rebounds and King Astrero added 16 points, six rebounds and four assists.
Raffy Gusi topscored with 29 points, six rebounds and six assists for Parañaque, which outscored Las Piñas, 34-21, in the payoff period.
Alfonso Rodriguez Jr. had a double double of 23 points and 14 rebounds for the Green Berets.
Jeffrey Vito Cruz, who came off the bench, finished 30 points in 18 minutes in action for the Home Defenders.
A total of 10 cities divided into two groups — North and South — are seeing action in the event
Only the top four teams from each group will advance to the division semifinals after the eliminations where teams play each other once including those in the other division.
The scores:
FIRST GAME
Quezon City 84 — Tabi 26, Melegrito 13, Estoce 12, Senal 10, Gomez De Liano 7, Saquillo 6, Macaballug 4, Asuncion 4, Riva 2, Udjan 0
San Juan 82 — Saret 19, Astrero 16, Corpuz 11, Dada 10, Bautista 6, Elarmo 6, Magbanua 6, Jagunap 4, Osorio 2, Casabar 1, Rosopa 1, Acol 0, Danao 0.
Quarterscores:19-19, 47-43, 65-58, 84-82.
SECOND GAME
Parañaque 101 – Gusi 29, Rodriguez 23, Indoy 15, Custodio 10, Dalaten 7, Villareal 7, Partosa 3, Danac 3, Geronaga 2, Encela 2, Elorde 0
Las Piñas 96 – Vito Cruz 30, Ollano 13, Sta.rosa 11, Alvarado 10, Eusebio 10, Lucente 7, Uduba 6, Dickens 5, Santos 4, Gragasin 0
Quarterscores: 15-19, 41-47, 67-75, 101-96
THIRD GAME
Manila 86 — J. Mallari 17, Yeo 15, Acibar 13, Yu 12, Rodriguez 11, Cruz 9, Quiminales 4, Manalo 3, Matignas 2, V. Mallari 0, Martinez 0, Orquina 0.
Pateros 83 — Quinga 21, Ilac 19, Lopez 19, Navarro 8, Gerero 5, Capus 5, Mabazza 3, Singontiko 3, Brojan 0, Mercado 0, Cruz 0.
Quarterscores: 22-12, 36-30, 60-60, 86-83.