Metrostar tops VIVO HoopBattle, gains China finals
405 total views, 2 views today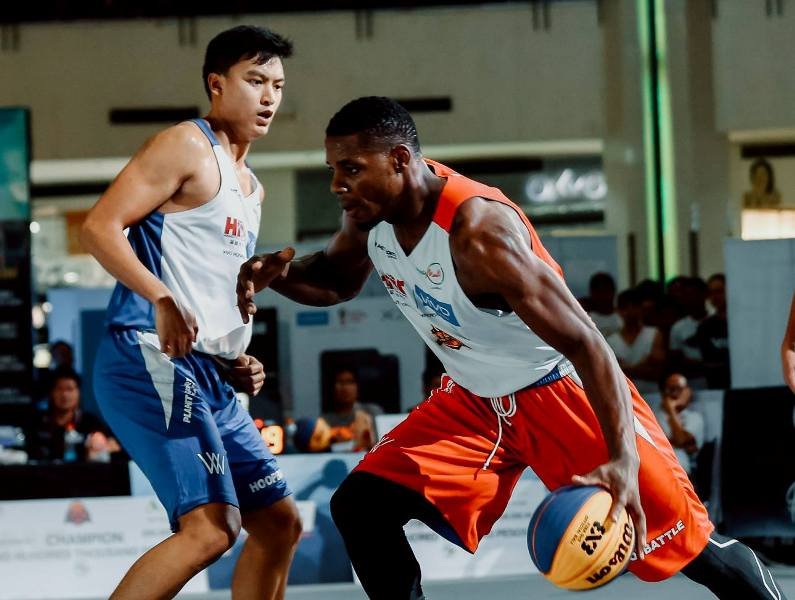 Metrostar Realty became the first-ever winner of the VIVO HoopBattle 3×3 Championship Philippines, using its height and heft advantage to the hilt to overpower Team Core, 21-10, in the finals before a big Sunday crowd at the Market! Market! in Taguig.

With 6-5 American Jamal Charlie Thomas on the firing end, MetroStar, which included PBA D-League players Joseph Navarro, Reinier Quinga and Argene Sabaza, proved too much for Team Core to overcome as it dominated the finals from start to finish to turn what was expected to be a thrilling duel into a one-sided affair.
It was in stark contrast to the hotly contested group duels and the semifinals with Metrostar Realty, one of the top two finishers in the first Phl leg elims at Glorietta, nipping Team Ballers, 18-16, and Team Core rallying from behind to shock a taller Arellano U side, 22-20, in overtime.
MetroStar thus clinched the top purse worth P200,000 and towed Team Core, which hurdled the South Park qualifiers, to the HBC Finals in October in Guangzhou, China where they will slug it out with the other top finishers in other Asian tournaments.
The top three teams will receive P3 million, P900,000 and P600,000, respectively.
Meanwhile, a Team Phl selection composed of Enderun's Mike dela Cruz, Ateneo's Marcio Sario of Team Ballers and Team F4's AJ Madrigal of UP foiled Team China's Jason Song, Camel Luo and Young Sean, 31-25, in the three-point shootout side event of the HoopBattle Phl finals.
Team Core, bannered by John Vidal, JP Cauilan and Axel Torres but which played without injured JR Alabanza, earned P100,000 for its runner-up finish in the event presented by AyalaMalls Synergies, Inc. and VIVO, the leading global smartphone brand, and backed by Capdase.
Thomas, a practice player for the Global Port Batang Pier in the PBA, also took the MVP trophy plus a Vivo V7 and trophy.
"I'm honored to be mentioned as MVP but I can't do it without these guys," said the 27-year-old Thomas, who with the rest of Metrostar Realty will buckle down to work to prepare for their China stint.
"We're going to train right away and improve aspects in our game as a team because I feel we have a chance to win there," said Thomas.