SAP SuccessFactors Solutions feted as Leader in the IDC MarketScapes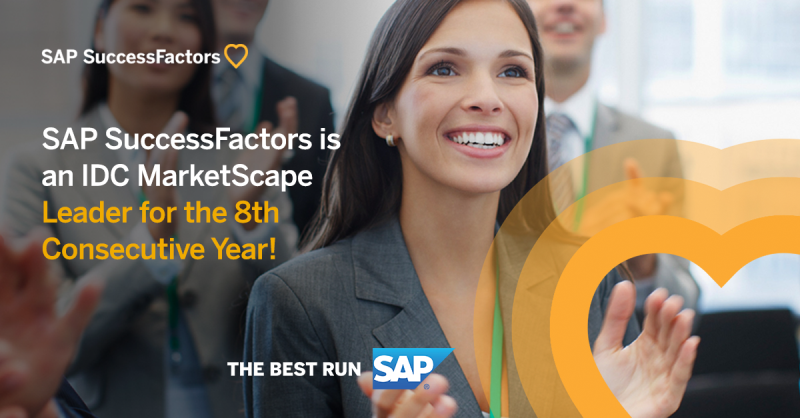 SAP SE announced that SAP SuccessFactors solutions have been positioned as a Leader in the 2018 IDC MarketScape Vendor Assessments for Worldwide Integrated Talent Management, Performance Management, Learning Management and Compensation Management for the eighth consecutive year.

IDC MarketScapes evaluate integrated talent, performance, learning and compensation management capabilities that attract, develop, reward and retain employees worldwide. Vendor positions are determined by detailed surveys, interviews and end-user experiences based on many factors, including current capabilities, services and how well the vendor is aligned to customer needs today, as well as future strategies about offerings, customer segments, business plans and go-to-market plans for the next three to five years.
"SAP SuccessFactors continues to innovate its portfolio of talent and HR modules and is making significant investments in user experience to drive more adoption and deepen value within its client base," said Lisa Rowan, research vice president of Human Capital and Talent Management Software and Services at IDC. "The breadth of the talent suite and the depth of each module distinguish SAP SuccessFactors in this space, and clients are beginning to realize the extended capabilities of the SAP Cloud with its talent analytics. Clients are well satisfied with the product road map, including budding total workforce management capabilities powered by integrations with SAP Fieldglass and SAP's compelling work as part of the Business Beyond Bias initiative."
SAP SuccessFactors solutions' leader position in all four reports is based on customer satisfaction with depth and completeness of current solution, confidence that future releases will meet organizational needs, appropriateness of delivery model, comfort with upgrade release schedules, cost effectiveness, integration and customer service. Among the highlights:
The Integrated Talent Management MarketScape: "SAP SuccessFactors has broad, deep relationships with key industry, technology and consulting partners through SAP's PartnerEdge® program. Based on SAP's extensible, connected cloud platform, and working with its partners, SAP SuccessFactors delivers comprehensive solutions to today's talent management challenges."
The Performance Management MarketScape: "Following its major 2016 introduction of continuous performance management (CPM), SAP SuccessFactors continues to invest in all areas of talent management with enhancements to CPM. The company also introduced updates in user experience, extensibility, analytics and support for key business initiatives."
The Learning Management MarketScape: "In learning management, the offering is particularly strong when leveraging a deep integration with the social collaboration capabilities offered through SAP Jam™."
The Compensation Management MarketScape: "The compensation module is a robust and full-featured solution. Strong modeling and embedded analytics make it a useful solution to both compensation analysts and managers."
"Effectively engaging and developing people is directly connected to success at every organization," SAP SuccessFactors President Greg Tomb said. "We're proud of our repeated leadership positioning in the IDC MarketScape series. These reports are a valuable tool for evaluating providers as companies undertake these important investments. And for us, they also confirm our commitment to both ongoing innovation with our unmatched talent solutions and to delivering the world-class user experience and customer service that our global clients expect and deserve."