MPBL: San Juan survives Caloocan scare
411 total views, 1 views today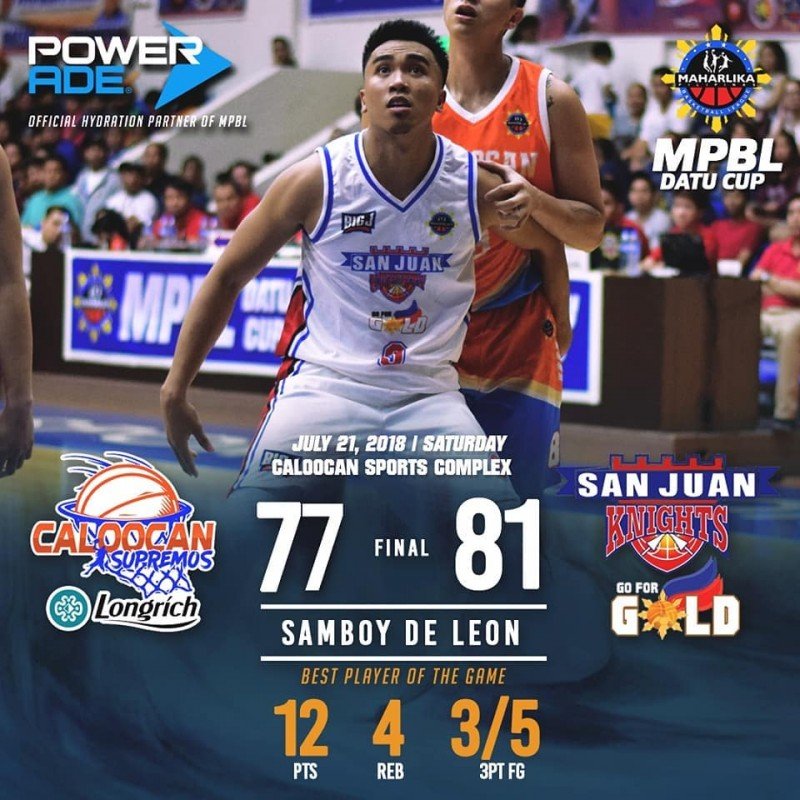 San Juan flirted with disaster before escaping with an 81-77 win over host Caloocan late Saturday night in the MPBL Datu Cup at the Caloocan Sports Complex.
It was the fourth win in as many games by the Go-For-Gold-backed Knights, who remained undefeated in the tournament put up by Senator Manny Pacquiao with PBA legend and former Most Valuable Player Kenneth Duremdes serving as commissioner.
Larry Rodriguez played his most productive game by coming away with a double-double performance of 15 points and 11 rebounds. Samboy de Leon added 12.
The Knights may be sitting on top of the standings, but the Classic of Valenzuela was able to score a big win over inaugural champion Batangas City Athletics-Tanduay, 78-66, in the other game.
It was the first time for the CDO Idol Cheesedog-supported Classic to win over the Athletics after four tries. Last season, Batangas City swept Valenzuela on its way to making the championship round.
The Classic came out prepared as Chris Gavina and his troops were able to come up with a good defensive game plan in slowing down the Athletics.
"We tried to be quick, be more active on defense. We thought of nothing except Batangas City for the past eight days. Beating those guys was a remarkable feeling," said Gavina.
Chris de Chavez led the way for the Classic with 22 points, but the defense proved to be the biggest factor in the team's win against one of the most explosive teams in the tournament.
Valenzuela held Batangas City to a paltry 32-percent shooting from the field (22-of-68) with ex-pro Bong Galanza pacing the inaugural champions with 12 points.
Jhaymo Eguilos, Batangas City's main man in the middle, was limited to eight points.
Even the Athletics' usually dependable guards struggled big time as Lester Alvarez made only 1-of-7 shots from the field while Teytey Teodoro only had five on 2-of-9 shooting.