PSL: UE-Cherrylume upsets Cocolife
673 total views, 1 views today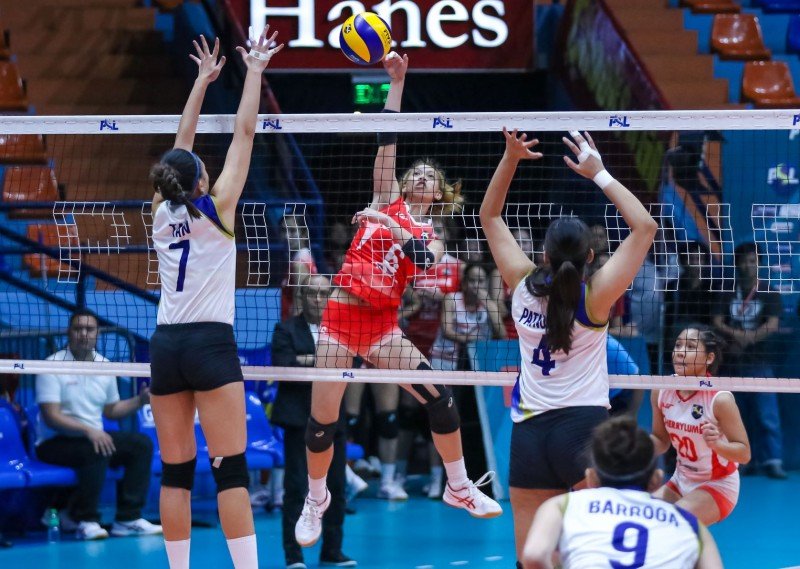 University of the East-Cherrylume hung on tight to upset the Cocolife in five sets, 22-25, 26-24, 25-19, 21-25, 22-20, and capture the ninth place in the Chooks to Go-Philippine Superliga (PSL) Invitational Conference Thursday at the FilOil Flying V Centre in San Juan.

The Iron Lady Warriors saved the best for last as they survived five match points before dispatching the Asset Managers in two hours and 12 minutes and settle for the ninth place in this prestigious club tourney bankrolled by Isuzu, UCPB Gen and SOGO Hotel with ESPN5, Hyper HD and Aksyon TV as broadcast partners
Mary Anne Mendrez provided the clutch blows for UE-Cherrylume denying Cocolife's last three match points of the seven deuces.
Down from 19-20, Mendrez nailed the equalizer and Cocolife's Justine Tiu overcooked her attack giving the Lady Warriors the set point, 21-20, before Mendrez hit the game-winning service ace.
Mendrez erupted for 27 points off 24 kills and three service aces, including 28 digs.
Juliet Catindig was also impressive with 18 points, including 18 digs and 12 excellent receptions, while Judith Abil and Mariella Gabarda added 13 and 11 markers, respectively.
"'We gave our all in our last game" said UE-Cherrylume head coach Rod Roque after getting a gracious exit in the midseason conference that also has Senoh, Asics, Mikasa, Mueller and Grand Sport as technical sponsors.
"When we joined, our only aim is to gain experience, learn from the senior players and adapt their strategy, mindset and communication in this exposure and preparation for UAAP."
The Iron Lady Warriors squandered a 2-1 set lead but did not back down in their neck-and-neck duel in the fifth set with the Asset Managers.
UE-Cherrylume reached match point first with a precarious 14-13 lead but Cocolife forced six more deuces before Mendrez's heroics sealed the victory.
Cocolife crashed down in the last place of the 10-team Invitational conference.
Gyra Barroga and Tiu finished with 15 points each and had 19 digs and 13 receptions, respectively.
Denice Tan and Marge Tejada were also instrumental with 13 and 10 markers, while libero Denden Lazaro had 34 digs.