PSL: Cignal books return ticket to semis
648 total views, 1 views today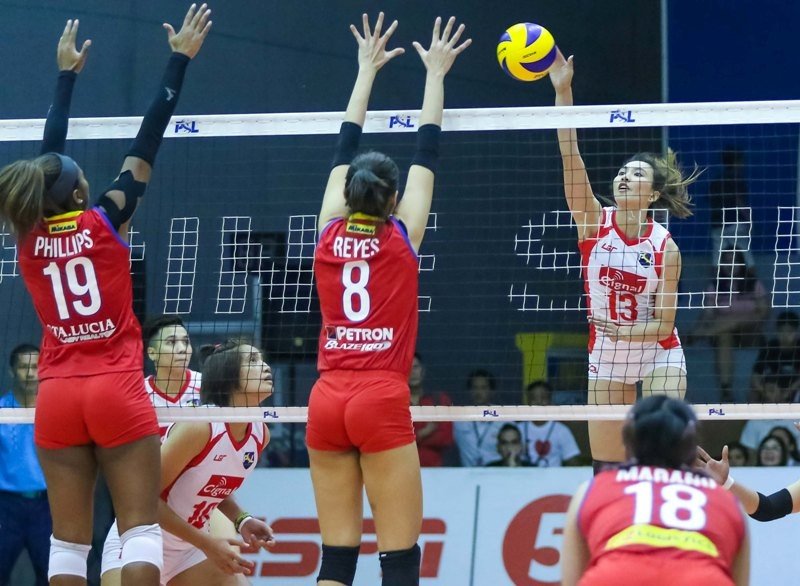 Reigning champion Cignal booked a return flight to the semifinals as it clobbered Cocolife in straight sets, 25-21, 25-21, 25-22, in the Chooks to Go-Philippine Superliga (PSL) Invitational Conference yesterday at the Muntinlupa Sports Center.

Skipper Rachel Anne Daquis got the job done as she spearheaded the HD Spikers to a clean sweep of the preliminaries in this prestigious club tourney bankrolled by Isuzu, UCPB Gen and Sogo Hotel with ESPN5, Hyper HD and Aksyon TV as broadcast partners.
Daquis nailed the semis-clinching backrow kill to complete an impressive third-set fightback and finish with 15 points built on 13 attacks, two blocks and seven digs.
"Rachel was really very eager to win this game for us. She played in beast mode and carried the team," said Cignal head coach Edgar Barroga, noting that he fired up his wards by reminding them the importance of the game.
"We came in a bit relax because our opponents is already out of contention and the we realized that we cannot afford to lose this game because we might blow our opportunity for outright semifinals."
National Pool member Mylene Paat scattered 10 kills and six blocks for 16 points while Mumay Vivas notched six hits and playmaker Acy Masangkay made 21 excellent sets for the HD Spikers, who also drew impressive game from seasoned libero Jheck Dionela.
Cignal will take a one-week break while waiting for its foe in the knockout semifinals in this conference that also has Senoh, Asics, Mikasa, Mueller and Grand Sport as technical sponsors.
After taking the first two sets in convincing fashion, the HD Spikers lost steam in the third set as they trailed the Asset Managers, 11-15.
But the HD Spikers used its experience to the hilt as they found their way back to force a neck-and-neck duel until the Asset Managers fired back for a 21-19 cushion.
Cignal never wavered with Vivas and Shirley Salamagos providing the clutch blows before Daquis hit the game-winning backrow hit.
Barroga also managed to limit the production of her daughter, Gyra Barroga, who had only four points, leaving Denice Tan and Justine Tiu leading the way with eight and seven hits, respectively.
The Asset Managers finished fourth in Pool B and will be relegated to the classification battle for seventh to 10th places starting Tuesday.