Lincoln Yap leads PH team at Singapore Chess tilt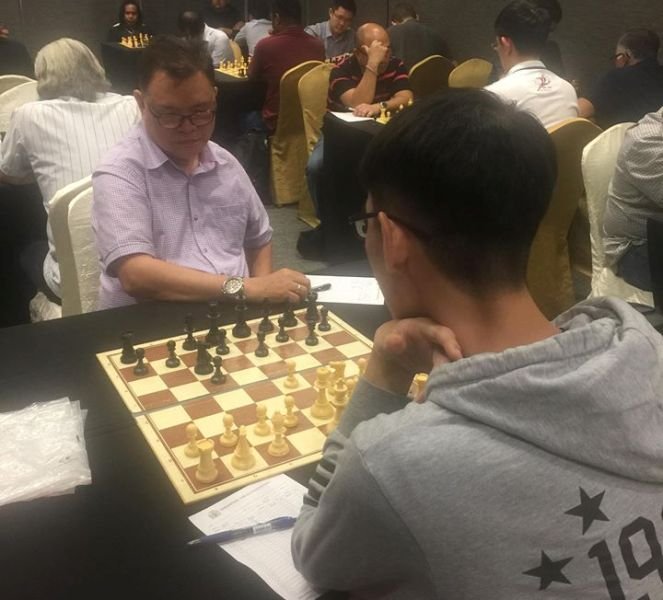 SINGAPORE – THE Philippines' Bulldogs/Psalms 23 scored 3.0 points over the Grand Asian Chess Challenge (GACC) Dream Team to improve its standings in the QCD SG Chess League 2018 at the Aqueen Hotel in Paya Lebar, Singapore late Friday, July 13, 2018, here.

Lincoln "Linky" Yap, the pride of Cebu, who played in Board 1, scored his fourth win by beating Kwok Foong Lam in their Sicilian Dragon Skirmish.
"I hope to do well in this event," said Lincoln, a certified International Arbiter, and chess instructor. He is also the father of International Master (IM) Kim Steven Yap.
Arena Grandmaster (AGM) and Fide (FM) elect Roberto Suelo Jr. subdued Peter Wirija in Board 3 in their Caro-Kannn defense for his fourth win in five outings.
Nathanael Ong prevented a possible shut-out loss for his team as he crushed Xavier Chua in their French defense clash in Board 4.
After five rounds, the Philippines is in second place with 4.0 points, half point behind current leader Pawnstars (Singapore) which has 4.5 points.
International Master Enrique Pacienca who hails from Tacloban City toppled Fide Master (FM) Timothy Chan in Board 1 to spearheaded Pawnstars into 2.5-1.5 victory over Woof! Woof! Woof! chess team.
Earlier, the Philippines' Bulldogs/Psalms 23 chess squad defeated John 3:16 (3-1) in the first round, Chessmates (3-1) in the second round and Woof! Woof! (2.5-1.5) in the fourth round.
They suffered heartbreaking losses to Woff! (1-3) in the third round as Yap the only Filipino survivor after beating Russian Fide Master (FM) Andrey Terekhov.
The Philippines' Bulldogs/Psalms 23 will face Pawnstars (Singapore) in Round 6.
In other matches saw, Kevin Goh Wei Ming, the latest chess Grandmaster (GM) of Singapore trounced Vietnamese Fide Master (FM), Hong Nguyen Ly, to lift Woof! Woof! into a 3-1 victory over Woof!
Former Philippine Junior champion Fide Master (FM) Arlan Cabe waylaid Ngan Moan Loh as Bulldog Chess Brotherhood edged Thomsformers, 2-5.1-5.
Kent Ridge Knights defeated Chess Mates, 2-5.1-5, thanks for Fide Master (FM) Hoon Cheng Lim who brought downed Bansal Randhir.
With the setback, Woof! remains at 3.5 points, the same output of Bulldog Chess Brotherhood.
Kent Ridge Knights of FM Lim along with Woof! Woof! of GM Goh and Woof! Woof! Woof! of FM Chan tallied 3 points each.
Organized by Singapore Chess Federation, tournament director is John Wong Fan Kong while Chief Arbiter is Fide Arbiter Christopher Lim in the thirty minutes plus 30 seconds increment time control format, match points system.