PSL: Foton finally wins one against UP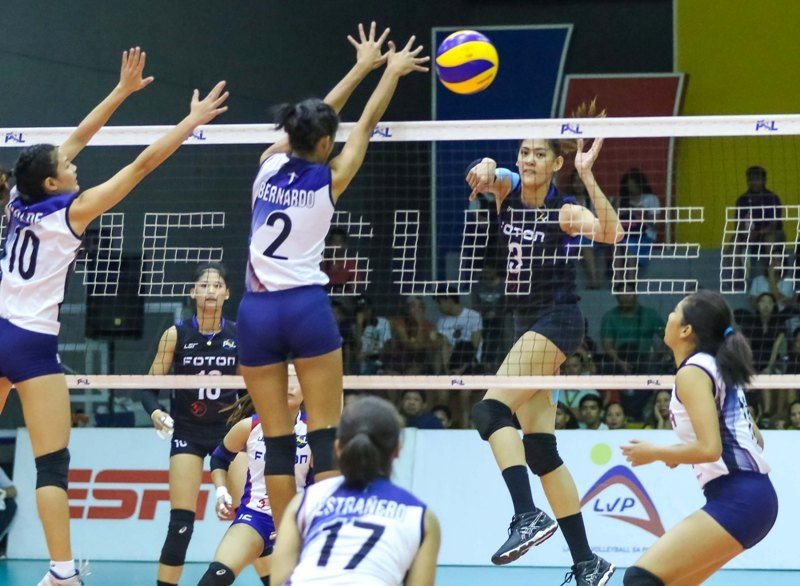 Foton refused to end its preliminary round without a win as it turned back University of the Philippines-United Auctioneers Inc. (UP-UAI) Lady Maroons, 25-10, 23-25, 25-22, 25-19 in the 2018 Chooks to Go-Philippine Superliga (PSL) Invitational Conference at the Imus Sports Center.

After three straight setbacks, Jaja Santiago and Dindin Manabat took matters into their own hands as they carried the Tornadoes to win column to gain momentum in the classification battle for 7th to 10 places.
The Tornadoes will clash with the fifth seed in Pool B, which is either Cocolife or University of the East-Cherrylume on July 17.
Santiago led the scoring parade with 21 kills, two blocks and an ace for 24 points while Manabat chipped in 14 points, including clutch hits in the last two sets to finish the Lady Maroons in an hour and 40 minutes.
Bea de Leon also shone with nine points while libero Jen Reyes took charge of the floor with 23 digs and six excellent receptions.
"Somehow, we're still happy because finally we got a win and it will be big help for the players in regaining their confidence for our remaining matches," said Foton Assistant Coach Edjet Mabbayad, who took over for head coach Rommel Abella.
The Lady Maroons could not convert their gallant fight into a win as they fell to 0-3 in Pool A with Marian Buitre and Isa Molde leading the scoring with 16 and 12 points, respectively.