Lady Warriors subdue Cool Smashers, near PVL finals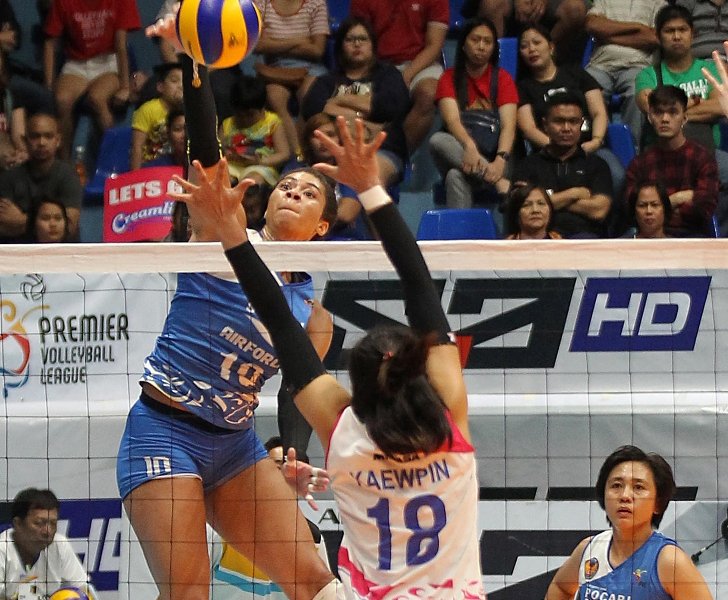 Games Wednesday
10 a.m. – Vice Co vs Air Force (men's)
1:45 p.m. – BanKo-Perlas vs PayMaya (women's)
3:45 p.m. – Pocari-Air Force vs Creamline (women's)
6 p.m. – Cignal vs PLDT (men's)
Pocari-Air Force used the momentum of its stirring come-from-behind win in the opening frame as it dominated top seed Creamline in the next two to fashion out a surprising 25-23, 25-12, 25-23 victory to zero in on the first finals berth in the Premier Volleyball League Season 2 Reinforced Conference at the Filoil Flying V Center in San Juan Sunday.

The No. 4 Lady Warriors rallied from a pair of six-point deficits in the early going then fought back from 18-21 down by winning seven of the last nine points behind Arielle Love's power hits and the defending champions' kill blocks to carve out the two-point win.
They pounced on the demoralized Cool Smashers in the second then took control from a 9-9 count in the third to post a 24-21 advantage on a Love off-the-block hit. But the Cool Smashers saved two match points on Pocari's errors, including a Cesca Racraquin service miscue and Myla Pablo's off-speed that failed to clear the net.
But Love and Jeanette Panaga did what they do best all game-long – combining to foil another Valdez power blast to complete the straight-set romp.
"I think our advantage is that we had played continuously in the quarters while they came off a long break," said Jasper Jimenez, coach of Pocari, which actually got a free ride to the semis from BanKo-Perlas' sweep of the quarters of the season-opening conference of the league organized by Sports Vision. "We had to go through the eye of a needle to get here. And that was our motivation."
Love fired away 15 kills and came up with four kill blocks for a 20-hit output while fellow American reinforced Maddie Palmer added 12 hits and Pablo hammered in nine points and added 12 excellent receptions for the Lady Warriors, who produced an impressive 13-kill block effort to highlight their superb net defense.
Pocari also delivered 10 aces.
The victory thus puts the Lady Warriors on track of another crack at the championship they won over BaliPure in sudden death in last year's inaugurals of the league backed by Mikasa and Asics.
It was a sorry setback for Creamline, which beat Pocari in four in the elims and looked headed to re-asserting its mastery after a strong start. But the Cool Smashers crumbled at the finish and never recovered in the second frame. They put up a tough stand in the third and forced a 19-all count only to yield the next four points which the Lady Warriors used a cushion to repel Creamline's late charge.
Valdez finished with 16 points on a 14-of-48 attack clip while Thai import Kuttika Kaewpin struggled with six hits and Nina Asceric replacement Laura Schaudt groped for a single hit.
Earlier, defending champion Cignal clamped down on PLDT Home Fibr's hitters as it pounded out a 25-22, 25-20, 26-24 decision in their side of the opener of their best-of-three playoff in the men's side of the league backed by Mikasa and Asics.
The HD Spikers hardly showed the effects of a long layoff following a good prelims run that earned then an outright Final Four seat as they took control with their power while banking on their superb net defense to frustrate the Ultra Fast Hitters' Mark Alfafara and John Vic de Guzman.
Five-time UAAP MVP Marck Espejo fired 20 points for the HD Spikers who also drew a combined 22-point effort from Rex Intal and Ysay Marasigan. Cignal also produced 11 kill blocks to highlight its choking net defense.