Top Performers chosen for Jr. NBA PH 2018 All-Stars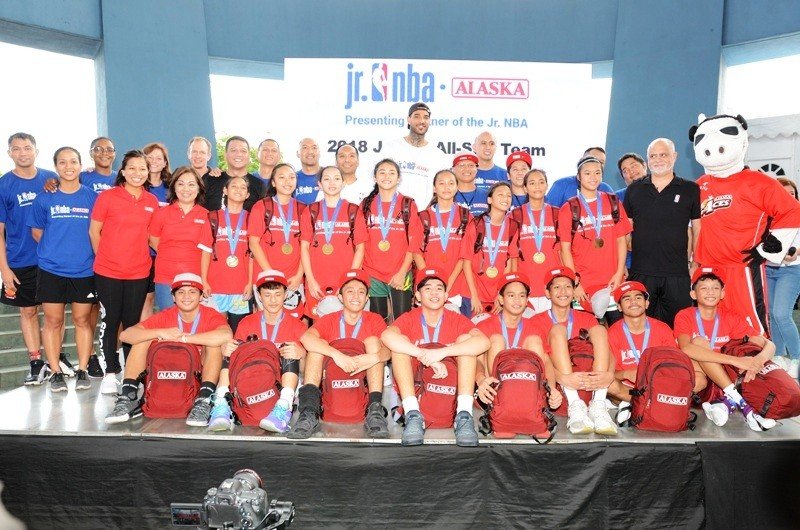 After a little over five months and four Regional Selection Camps the 2018 edition of Jr. NBA Philippines presented by Alaska officially had its curtain call over the weekend.

From the thousands who signed up, 74 outstanding campers — the top performers from the Regional Selection Camps held in Bacolod, Baguio, Butuan, Metro Manila and Alaska Power Camp, moved on to the National Training Camp with no less than Sacramento Kings center Willie Cauley-Stein and WNBA legend and Hall of Famer Sheryl Swoopes in attendance who served as mentors and coaches to the young aspirants along with Jr. NBA Coaches Carlos Barroca and Rob Newson, together with Alaska coaches led by PBA Legend Jeffrey Cariaso.
And after a series of intense training at the Gatorade Hoops Center last May 18 and the Don Bosco Technical Institute last May 19, 16 lucky hoopsters were named to the 11th batch of Jr. NBA Philippines All-Stars at the National Training Camp held at the Mall of Asia Music Hall on May 20.
This year's selection, a well-balanced group chosen from the National Capital Region, Luzon, Visayas, and Mindanao, who showcased their skills on the court and exemplified the Jr. NBA core S.T.A.R. Values of Sportsmanship, Teamwork, a positive Attitude, and Respect are:
Boys:
Alao, Prince Ray (14) – San Beda University
Aljan, Ethan Rod (14) – La Salle Greenhills
Amagan, John Lester (14) – St. Robert's International Academy of Iloilo
Gagate, Seven (14) – Chiang Kai Shek
Jundana, Nathan Jan (14) – Bacolod Tay Tung
Mesias, Christian Joi (14) – Jose Maria College of Davao
Tamayo, Kim Aaron (13) – National University
Telles, RhonKhaniel (13) – St. Anthony de Carmelli Academy
Girls:
Flores, Madelyn (14) – Bukidnon National High School
Huelar, Gin Kayla (13) – St. La Salle University, Bacolod
Solis, Aishe (13) – Corpus Christi School in Cagayan De Oro
Valle, Pauline Angelique (13) – Misamis Oriental General Comprehensive High School
Venterez, Christine Nichole (12) – Baguio City National High School
Vingno, Marielle (14)- Escuela de Sohia of Caloocan Inc.
Esquivel, Amber (14) – De La Salle Zobel
Mataga, Kyla Marie (13) – De La Salle Zobel
Alao and Valle were likewise named as this year's Jr. NBA/Jr. WNBA Most Valuable Players in the Boys and Girls divisions, respectively. Marielle Vingno and Ethan Rod Alian, meanwhile, were selected as Alaska Ambassadors. Hazel Yambot of Baguio and Mark "Tata" Belangel of Bacolod were chosen as the Coaches of the Year.
Special awards were handed out to Kayla Marie Mataga and Javier Louis Jugo as Gatorade Hustle awardees, Merylle Cuasay and Czarlo Salvador as Panasonic Rising Stars, and Aishe Solis and Kim Aaron Tamayo were named Cloudfone Awesome Players of the Game.
The players' on-court skills were not the sole focus of the Jr. NBA program. As a longtime partner, Alaska helped put emphasis on the athletes having balanced nutrition to further sharpen their intelligence and emotional quotients.
"Alaska's long-standing partnership with the NBA for the Jr. NBA/Jr. WNBA program is proof of our commitment in helping shape the youth into being not just good athletes but also as members of society through sports. Like their parents, it is not just their athletic ability we aim to develop but more so their emotional and mental capacities," said Blen Fernando, Alaka's VP for Marketing.
"Being a part of a program such as this is a once in a lifetime experience that I'm sure the campers will bring with them even outside of the basketball court. Learning more about the value of hard work, perseverance, dedication, and passion is something I'm sure they can apply not just in sports but as they embark on other endeavors in the future," she added.
A once in a lifetime NBA experience trip in Shanghai, China awaits the All-Stars in October as they will be joining their counterparts from Indonesia, Malaysia, Singapore, Thailand, and Vietnam in training and friendly competitions before capping their trip by watching live the NBA China Games 2018 featuring the Philadelphia 76ers and the Dallas Mavericks.
For more information about the Alaska Milk Corporation, visit www.alaskamilk.com and for live updates follow PlayPH in facebook, Instagram and Twitter.
For general information about Jr. NBA presented by Alaska 2017 visit www.jrnbaphilippines.com