NBA: Rockets lose Paul for playoff game with hamstring strain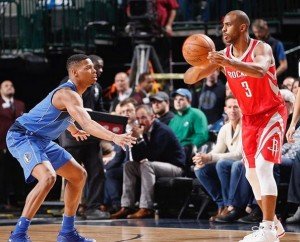 Houston Rockets star guard Chris Paul will miss the team's crucial NBA playoff game Saturday at defending champion Golden State with a strained right hamstring, the Rockets announced Friday.

The team said Paul will be re-evaluated after the Rockets return from Saturday's Western Conference matchup against the Warriors, with Houston leading the best-of-seven series 3-2 entering game six at Oakland, California.
If the Rockets win, they can await Paul's medical update as they prepare for their first trip to the NBA Finals since winning the title in 1995.
If the Rockets lose, they will be preparing for a seventh-game showdown Monday at home, a one-game winner-takes-all contest to decide a berth in the NBA Finals that begin Thursday.
Eric Gordon, who has averaged 14.7 points in the playoffs, will replace Paul in Saturday's starting lineup, Rockets coach Mike D'Antoni said.
Paul suffered the hamstring injury in the final seconds of Houston's 98-94 home victory in game five Thursday, which followed a 95-92 win at Golden State in the only close contests of the series so far.
Paul, a 13-year NBA veteran who has never played in the NBA Finals, reached for his hamstring after missing a shot in the final minute, limped after that and left the contest with 22.4 seconds remaining and the outcome still in doubt.
In the contest, Paul had 20 points, all but two in the second half, plus seven rebounds, six assists and three steals.
Paul has averaged 21.1 points, 5.9 rebounds and 5.8 assists during the playoffs for the Rockets, who had an NBA-best 65-17 regular-season record and ousted Minnesota and Utah in five games each in the opening rounds of the playoffs.
In the regular season, Paul averaged 18.6 points, 5.4 rebounds and a team-high 7.9 assists a game.
Together with NBA scoring champion James Harden, who averaged 30.4 points in the regular season and has netted 28.1 a game in the playoffs, Paul had the Rockets playing as a serious championship contender.
Paul had been playing with a nagging right foot injury but said the pain had diminished between games three and four at Golden State.
Replacing Paul's point production and defensive work will require greater effort from Rockets standouts Gordon, P.J. Tucker and Clint Capela.
The Rockets went 15-6 this season in games without Paul when Capela and Harden were in the lineup. (AFP)