Painter Nikki Ocean collaborates with local musician and poet for exhibit
332 total views, 1 views today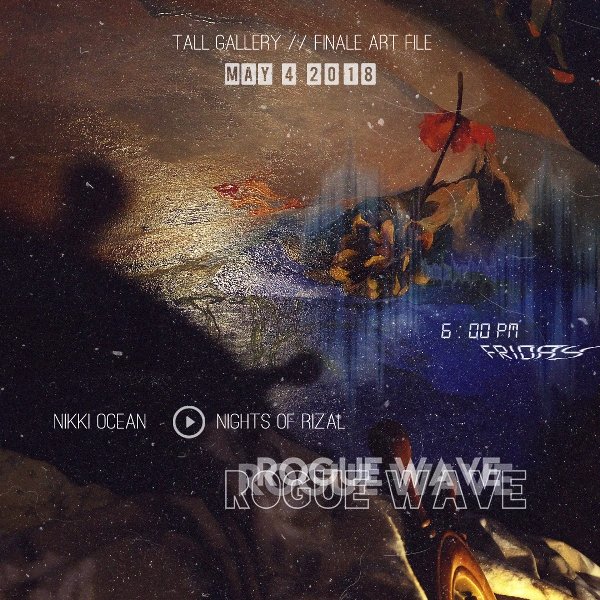 For her biggest solo exhibition Rogue Wave at Finale Art File on May 4, 2018, Nikki Ocean conspired with Nights of Rizal by Migi de Belen, and art and sci-tech journalist Czyka Tumaliuan to capture a visceral experience of her personal meditations on being and time.

"I've always found social pressures alienating as they prevent me from being my authentic self. And I'm aware that I'm not alone. Today, I noticed that it's even magnified by social media where people get instant self-validation and escape. For my show, I want to explore how these kinds of distractions prevent us from facing and living our truths," Ocean shared.
Exhibiting a total of 22 works at Finale's tall gallery, Ocean is keen to design an experience for her guests not just a visual spectacle, collaborating with two other creatives to open up layers of perception and engage her audience.
"When I create a show, I consider the space as a medium too. Sure, you can look at my paintings (which are physically flat) through photos on a screen, but it's different when you're navigating the actual space. Why do we listen to live music? Why do we watch an actual sunset or walk through forests? That energy can't be replicated," the 28-year-old artist said.
A show about life as a constant struggle to find our inner voice and true selves, the exhibition is replete with imageries of light, journey, and reflection; such as mirrors, vessels, sun, clock, moon, lanterns, and sea.
Ocean juxtaposes noise and symbols of illusion amidst this luminous mishmash to create tension and depth. At the center of the space where Ocean will install a raft surrounded by broken CDs from her closet, Nights of Rizal is performing an original piece based on his understanding of Nikki's intention for the show and conversations that they've had around it.
"I'm definitely playing around with different waveforms, and different ways of oscillating waveforms. However I think the essence of my music for the show will be less about the individual waves and oscillations themselves but more about how they intersect—willingly or accidentally—which I believe is what Rogue Wave is all about," de Belen explained.
"What would seem like chaos is actually a complex cloud of causality," he added.
According to Tumaliuan, the audience is encouraged to digest this ambivalence, and write the exhibition notes on their own.
"Nikki hired me to write her exhibition notes. I told her that her guests should write it themselves. She agreed," Tumaliuan revealed.
"The exhibition is too relevant for the audience to just drink their way through the show and just rely on me to explain it. So I made an empty exhibition note with cryptic footnotes to a yet-to-be-written content. This can either mess your mind, or make you genuinely curious," she expounded.
There will be a wall where people can write their thoughts about the show and be part of the meaning-making.
"Life is finite. It's so short, yet we're all so distracted with the intention of pleasing the public gaze. Worse, sometimes, once we become aware of this, we distract ourselves even more. I'm hoping that people sincerely wish to end this cyclical process of destructive denial," Ocean hoped.
Rogue Wave opens on May 4, 2018 and will run until May 28. Artist talk is on May 19, 4PM.